We have the honour and pleasure to offer the only existing collection with all the tickets of the European cup finals placed to date, all tickets of the finals contested from the first edition in 1956 to the last one of 2011.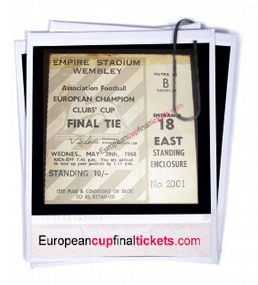 Living the history of the sport through the collection is one of the greatest passions throughout the world, from the most developed country to the most remote place of the earth, and what sport more popular than football.
There is not a collection equal to that offered on sale, and never have been gathered all the European cup finals tickets. Nowadays, individual tickets are sold by very high prices.
The collection has taken me over 35 years to complete it. In fact, my father began it when he visited in 1957 his first final. Since then, we have been looking for markets, fairs, antique shops along various European countries, until recently, and thanks to a major personality in the world of football, we got our last ticket.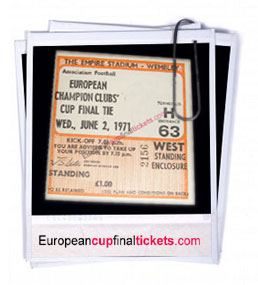 What is really amazing is to gather all the tickets in a collection since it is known that in some cup finals very few tickets survived even some of them like that of 1961, less than five entries are known to date. Therefore, the possibility of gathering all entries in a single collection is practically impossible. To date, it is not known the existence of any other collection that has all the finals tickets.
The work to complete the collection has been arduous. Numerous travels throughout the years and thousands of hours used for the much of the time not to have luck and go home without the coveted piece, and what is worse, with any clue.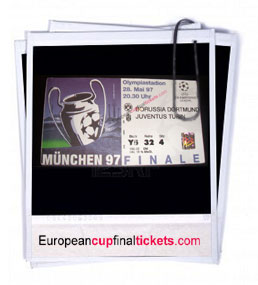 This collection is not in any football museum, not even in the best clubs with more glasses of Europe.
The person or association who wants to buy the complete collection must make a payment by credit transfer. The best method is to pick the collection in person, however if the buyer wants, it will be sent by Fedex or Ups to anywhere in the world. Currently, the collection is deposited in a European bank. For any questions, please call or mail and later we will agree a telephone appointment and/or personal.
The photos of the tickets have been made with a camera. If it's necessary they shall be provided by mail scanned images of better quality. Of course all tickets are original. To save and ensure the authenticity and veracity of the entries has been added to each image a digital effect which is not present in the original tickets, it is only an effect done with Photoshop programme. Since come of tickets have not seen the light, what's more, they are not known even by the great collectors.
To view tickets click on the link for each season, it will deploy an image of our tickets, data from the final and some statistics of that season.

Seriousness and discretion are 100% guaranteed. Write to our email if you are interested in taking with this collection, unique in the world. Contact Me