Home European cup final tickets | History | Gallery | Contact
GALLERY '90 / 1990 Decade / 1993 European cup final tickets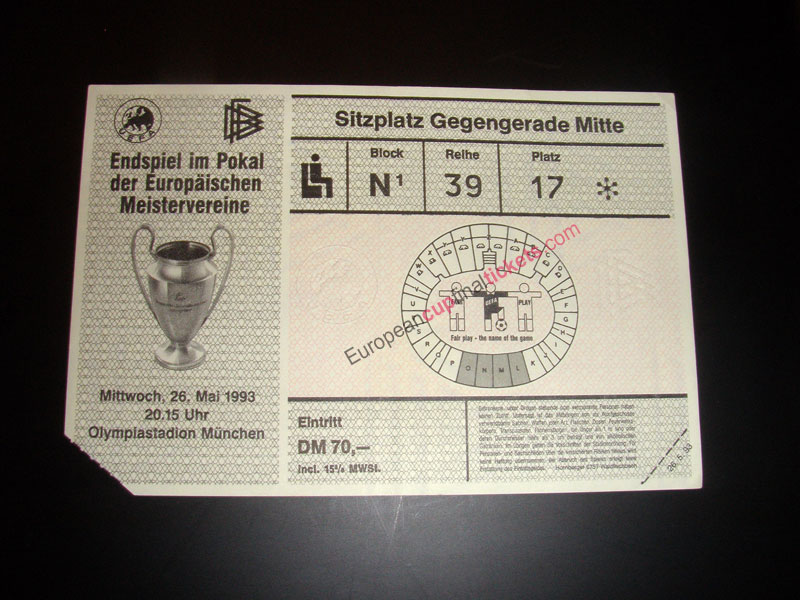 1993 European Cup Final (Munich)
Marseille 1 Milan 0
Marseille: Barthez, Angloma (Durand), Di Meco, Boli, Sauzee, Desailly, Eydelie, Boksic, Voller (Thomas), Pele, Decamps (capt)
Scorer: Boli
Milan: Rossi, Tassotti, Maldini, Albertini, Costacurta, Baresi (capt), Lentini, Rijkaard, Van Basten (Eranio), Donadoni (Papin), Massaro


UEFA rules stated that teams competing in European competitions could field a maximum of three foreign players. This rule had a big impact on Europe's richer teams who could only play three of their expensive foreigners at once, and also had an effect on English teams who were limited in the number of Scottish, Welsh and Irish players that they could select. Another team that found themselves troubled by this rule were Stuttgart. The German champions were handed a very tough draw in the first round of the European Cup when they were paired with Leeds United. The first leg in Germany was a tight affair until the hour mark when Fritz Walter gave Stuttgart the lead. Leeds then threw caution to the wind in an attempt to equalise and ended up conceding two late goals and so finish the game with the seemingly insurmountable task of overturning a 3-0 first leg deficit. The English champions were determined to put up a fight, however, and produced a passionate display in the return. An early Leeds goal was cancelled out by the Germans, but the home side continued to attack and with over ten minutes remaining found themselves 4-1 up and within a goal of a remarkable comeback. They were, however, unable to conjure up a further goal and it appeared that Stuttgart had done just enough to squeeze through on away goals. But soon afterwards it transpired that, despite already having played three foreigners in the second leg., Stuttgart coach Christoph Daum had brought on the Serbian substitute Jovica Simanic with just eight minutes to go and had thus infringed the three foreigner rule. UEFA responded by awarding Leeds a 3-0 second leg victory and ordering that the game be settled by a replay in Barcelona. Inside an almost empty Nou Camp, Leeds won 2-1 with Simanic nowhere to be seen and Stuttgart were out.

It got no easier for Leeds as they faced a 'Battle of Britain' tie against Rangers to see who would progress to the group stage. Leeds scored early in the first game in Glasgow and looked set to dominate the tie, but a mistake by their goalkeeper John Lukic let the Scots back into the game and Rangers went on to win 2-1. An early Mark Hateley goal in the return provided a task that was too much for Leeds this time as Rangers ran out deserved 4-2 aggregate winners.

Joining Rangers in Group A would be Marseille who had got past Glentoran and Dinamo Bucharest; Club Brugge who had beaten Austria Vienna 2-0 at home in Round 2, but had to cling on for away goals after losing 3-1 in the return; and CSKA Moscow who had achieved the surprise result of the competition so far. Despite having beaten Viking of Norway only 1-0 in the first round, holders Barcelona were strongly favoured to beat CSKA and progress to the second round. They looked to be in a good position when they returned from Moscow with a hard earned 1-1 draw, and were even better placed when they were two goals ahead after half an hour of the second leg. But CSKA mounted an incredible comeback with goals from Bushmanov, Masharin and Karsakov to gain a 3-2 win that put the reigning champions out and sent shockwaves around Europe.

Group B contained Milan, PSV Eindhoven , IFK Gothenburg and Porto, all of whom had reached the group stage without undue alarm. All eight teams that had qualified were through to what was now officially termed the Champions League. Sponsorship and television rights for these games were sold as exclusive packages which meant that the rewards for progressing this far were now more lucrative than ever before.

In Group A, CSKA Moscow were playing in the close season and were forced to play all their home games in Germany due to the severe weather in Russia, so they were unable to reproduce the sort of form that had seen them knock out Barcelona. The favourites to reach the final were Marseille who had strengthened their team since the disappointment of losing to Red Star Belgrade in the final two seasons previously. With Barthez in goal behind the imposing presence of Boli and Desailly, the grit of Deschamps, the flair of Abedi Pele and the goalscoring of Croatia's Boksic and Germany's Voller, Marseille had, thanks to the backing of owner Bernard Tapie, amassed a team ready to challenge for Europe's biggest prize. Their opening group game away to Rangers saw them show their class as goals from Boksic and Voller accurately reflected their level of dominance after less than an hour of play. But Rangers , showing the kind of determination that had seen them come back from behind against Leeds struck twice late on through goals from McSwegan and Hateley to keep them in the hunt for the top spot. By the time the two teams met again nearly five months later in France they were still level on points with the winner of this penultimate group match guaranteed a place in the final. Again Marseille took the lead, but again Rangers came back to draw 1-1 and leave both teams still in with a chance going into their final games. Thanks to having scored one more goal in their head to head games, Marseille held the advantage, but they had to travel to Club Brugge while Rangers were at home to CSKA. Rangers threw men forward against their Russian opponents and created a host of chances, but as they continued to spurn their opportunities, news came through that Marseille were leading in Belgium and eventually they lost their impetus. It had been a brave effort by the Scottish side, but their goalless draw coupled with Marseille's 1-0 win in Brugge meant that the French champions were through to their second final in three years.

Group B was infinitely less dramatic. The tone was set when Milan won their first game 4-0 against Gothenburg with Marco Van Basten scoring all four goals. Milan then proceeded to win every game in the group stage, conceding only one goal in the process. Their nearest challengers were the Swedes a full six points behind (remember this was when there were still only two points awarded for a win.) Their form in their domestic league was not good, but in Europe Milan were on their way to another final and seemed to be heading for another European Cup win.

The two finalists would be meeting for the first time since Milan's infamous walk off following the floodlight failure in Marseille just two years earlier. Since then, Marseille had made big changes in playing staff while Milan were now managed by former Italian international Fabio Capello. Both Gullit and Van Basten had been so badly hit by injury that the former did not even make the substitutes bench while the latter was being rushed back from the treatment table to make a rare starting appearance. The final, played in Munich's Olympic Stadium, started off with Milan making the better chances and twice in the first half, Barthez had to save well to stop Van Basten from opening the scoring, while Massaro missed two good chances. As half time approached, however, Marseille took the lead as a Pele corner was headed powerfully home by Basile Boli. Soon after the interval Capello threw Papin on to replace Donadoni, and the Frenchman came close on a couple of occasions against his former team, but gradually Milan's efforts petered out and when, on 86 minutes, Van Basten was taken off, the game was up.

For Milan it felt like the end of an era. Gullit had not played, Rijkaard had informed his teammates on the eve of the game that he would be leaving the club, while Van Basten had further aggravated his ankle injury and would never play again. The famous Dutch trio which the great Milan team had been built around was no more. Despite their triumph, there was also trouble ahead for Marseille. There were already whispers of a scandal that was about to engulf the club (Marseille Bribery Scandal), but for now there was only celebration. Two years after the crushing disappointment of losing to Red Star Belgrade in Bari, coach Raymond Goethals had pulled off a magnificent victory against one of the greatest teams in European Cup history. Nearly 40 years after Gabriel Hanot and L'Equipe had had the idea of a European Cup, a French team had finally brought the trophy home. There were to be sad days ahead for the French champions, but for now Marseille were the toast of French football as their supporters celebrated a famous victory.