Home European cup final tickets | History | Gallery | Contact
GALLERY '90 / 1990 Decade / 1991 European cup final tickets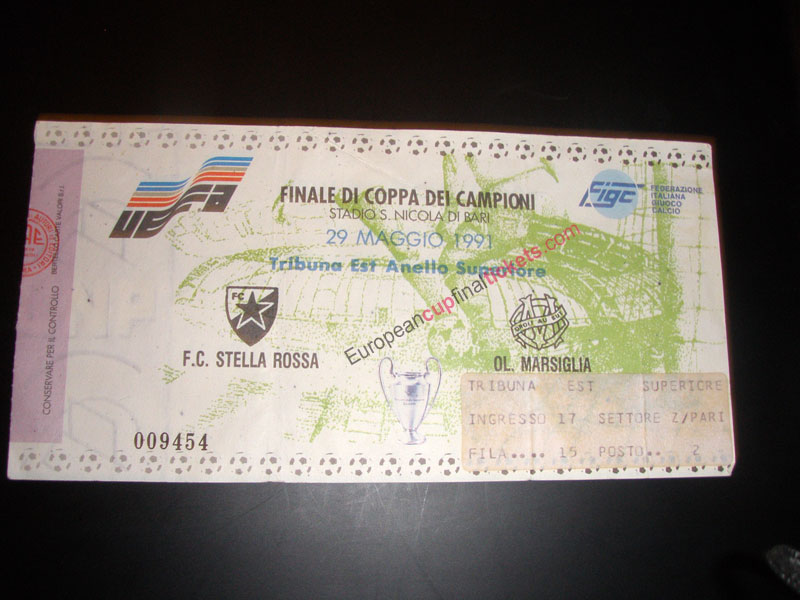 1991 European Cup Final (Bari)
Red Star Belgrade 0 Marseille 0 (5-3 penalties)
Red Star Belgrade: Stojanovic (capt), Sabanadlovic, Jugovic, Belodedic,Najdoski, Marovic, Savicevic (Stoaic), Prosinecki, Mihajlovic, Binic, Pancev
Penalty Scorers: Prosinecki, Binic, Belodedic, Mihajlovic, Pancev
Marseille: Olmeta, Boli, Mozer, Casoni, Amoros, Fournier (Vercruysse), Germain, Di Meco (Stojkovic), Waddle, Papin (capt), Abedi Pele
Penalty Scorers: Casoni, Papin, Mozer

Milan were now attempting to win a third consecutive European crown and were helped by receiving a bye through to the second round. While the reigning champions looked on, their likely challengers made their intentions clear with convincing victories. Real Madrid put 10 goals past Odense of Denmark, Bayern scored seven times against APOEL Nicosia, Porto amassed 14 goals against Portadown, Napoli beat Ujpest Dozsa 5-0 and Marseille defeated Dinamo Tirana 5-1.

Scottish champions Glasgow Rangers had dominated their domestic league for the last two years, ever since their chairman David Murray had appointed former European Cup winner Graeme Sounness as manager and provided him with funds that allowed him to sign established international players from England to add to the best in Scottish talent. Rangers now looked to make an impression in the European Cup and started well by beating Valetta of Malta by ten goals in the first round. In Round 2 they were drawn to play Red Star Belgrade. The Yugoslavs had not progressed further than the quarter-finals for 20 years, but in recent years Real Madrid had only knocked them out on away goals and Milan had required a penalty shootout to get past them two years previously. In the first leg in Belgrade, Red Star announced themselves as major contenders for European Cup and, at the same time, ended Rangers hopes for another year. With Robert Prosinecki running the game in midfield and Darko Pancev always dangerous in attack, the hosts put on a display of thrilling attacking football which would have resulted in a scoreline much more overwhelming than the 3-0 that they finally achieved had it not been for the outstanding performance by English goalkeeper Chris Woods. A 1-1 draw in Glasgow saw Red Star through to the quarter-finals with ease.

Elsewhere, the goals continued to flow from some of the leading contenders. Bayern Munich beat CSKA Sofia 7-0, Porto won their home game against Dinamo Bucharest 4-0, Marseille won 6-1 at home to Lech Poznan after losing the first leg, and Real Madrid beat Tirol of Innsbruck 9-1 in the Bernabeu with Butragueno scoring three and Sanchez netting four. The two Italian clubs, however, were in much less impressive form as Milan, who had Marco Van Basten sent off, squeezed past Bruges by a single goal and Diego Maradona's Napoli went out on penalties after two goalless draws with Spartak Moscow.

Of the four quarter-final ties, only two were actually completed. The major surprise of the round came when Spartak Moscow knocked out Real Madrid. Real had looked to have gained the upper hand when they held out for a goalless draw in freezing Moscow, and when Butragueno scored the opener early on in the second leg the Spaniards appeared to have taken a firm grip on the tie. But Spartak struck back with two first half goals from Radchenko and when Shmarov scored a third on 63 minutes, a shock result was complete. Bayern Munich also produced an impressive away performance as they gained revenge for their European Cup Final defeat to Porto four years earlier. Having only drawn 1-1 in Munich after Augenthalers sending off reduced them to ten men, Bayern won through to the semi-finals courtesy of goals from Ziege on 19 minutes and Bender after 71 minutes.

Red Star continued their impressive form into the quarter-finals as they took on the East Germans Dynamo Dresden. Goals from Prosinecki, Binic and Savicevic gave the Yugoslavs a comfortable 3-0 win in Belgrade. Dynamo sparked hopes of a recovery when they scored from the penalty spot after only three minutes of the second leg, but second half goals from Savicevic and Pancev effectively put the tie beyond the East Germans as was recognised by their supporters whose subsequent rioting caused the game to be abandoned on 78 minutes with the game being awarded to Red Star by three goals to nil.

The tie of the round pitted the holders Milan against Marseille. Milan were out of form and missing the injured Baresi and the suspended Van Basten. In the San Siro Gullit put Milan ahead on 14 minutes, but Papin equalised for Marseille just before the half hour mark and there was no further scoring in the match. In Marseille a volleyed goal from English winger Chris Waddle had put the French side ahead, and as the game entered its final moments, the home supporters were desperate for the game to end. With two minutes remaining, the referee awarded a free-kick, but many Marseille fans mistakenly thought that he had blown the final whistle and they ran onto the pitch. As the field of play was being cleared, a floodlight failed and the referee took the players off the pitch. Once the lighting had been restored and the pitch cleared, the referee instructed both teams to return, but the Milan players refused, hoping to have the game replayed. The match was then abandoned, but was subsequently awarded 3-0 to Marseille and so the holders were eliminated in the most unsatisfactory of circumstances.

The semi-final draw paired Eastern Europe with Western Europe in both ties. Having surprised Real Madrid, Spartak Moscow were now hoping to upset Marseille and reach the final, but the French champions dominated their semi-final from the start. Despite playing in front of 95,000 Muscovites, Marseille were at their exciting best and a left footed shot from their Ghanaian international forward Abedi Pele on 27 minutes, and a Papin goal just four minutes later gave them an early advantage. Spartak did reduce the deficit through Shalimov on the hour, but Phillippe Vercruysse's late headed goal gave Marseille an almost insurmountable 3-1 lead to take back to France. In the second leg, goals either side of half-time from Pele and Boli made sure of Marseille's place in the final and, although Mostovoi converted a second half penalty, Spartak had been well beaten.

Red Star Belgrade had impressed everyone with their flamboyant wins over Grasshoppers, Rangers and Dynamo Dresden, but it was widely expected that Bayern Munich would prove too strong for them in the semi-finals. And so, when Wohlfarth gave the Germans the lead in Munich's Olympic Stadium there was little surprise. But Red Star struck back on the stroke of half-time when a Prosinecki pass found Savicevic breaking down the right wing and his cross found Darko Pancev who slid the ball home at the far post. Then, on 70 minutes, the Red Star defence broke down a Bayern attack and Savicevic ran through from the halfway line before slotting the ball past the German goalkeeper to make it 2-1. In Belgrade a first half Mihajlovic free-kick increased Red Star's advantage, but Bayern refused to cave in and two goals in five minutes from Augenthaler and Bender levelled the aggregate scores with twenty minutes remaining. As the game entered its final seconds and with extra-time looming, Red Star attacked for one final time and, as Mihajlovic sent a low cross into the penalty area, Bayerns Augenthaler stuck out a leg to intercept, but succeeded only in sending the ball high into the air and it looped over his goalkeepers head and into the net. The Red Star Belgrade players and supporters went wild with delight for there was no time left for Bayern to come back again.

Red Star's thrilling team full of players from a number of different ethnic backgrounds was in stark contrast to the political turmoil that was developing in Yugoslavia. The country was in fact on the brink of a terrible and bloody civil war, but for a few hours on the evening of May 29th 1991 the country came together behind one football team. One thing that was certain was that the winners would come from a country that had never won the European Cup before - either Yugoslavia who had not had a finalist since Partizan Belgrade in 1966, or France who had seen neither Stade de Reims or St Etienne win finals in the past, would see one of their teams crowned European champions for the first time.

The final, played in the vast bowl of a stadium in Bari which had built for the Italian World Cup in 1990, was keenly anticipated with two exciting teams with players such as Prosinecki, Abedi Pele, Mihajlovic, Waddle, Savicevic and Papin on show. As the game began, it looked as though it might live up to its billing as both teams showed flashes of the entertaining football that they had played en route to the final, but the game soon settled down into a war of attrition with Red Star packing their defence and Marseille stopping all breakaways with their ruthlessly efficient offside trap. Throughout the 90 minutes and an extra 30 minutes of extra-time, there were few chances - a Prosinecki free kick went close and a Waddle header across the goal was only just wide, but overall the game was a huge disappointment for the 60,000 paying spectators and the millions watching on television around the world.

From an early stage, a penalty shootout had seemed inevitable, in fact Red Star coach Ljubomir Petrovic later admitted that his team had set out to play for penalties, and after 120 minutes of goalless football, that was what happened. The first penalty was converted for Red Star by Prosinecki, but Marseille's first penalty by Amoros was saved by Stojanovic. After that all the penalties were successfully converted and it was left to Pancev to score the penalty that brought the European Cup to Yugoslavia for the first time as Red Star Belgrade won the shootout 5-3.

Just as their East European neighbours Steaua Bucharest had done five years earlier, Red Star Belgrade had stopped an expensively assembled group of international stars from scoring and had held their nerve to convert all their penalties and pull off a surprise win. The final itself had been a huge disappointment, but they had emerged victorious and the manner of their final victory could not detract from the thrilling football that they had played on their way to Bari. Few pundits would have tipped Red Star Belgrade to win the European Cup when the competition had started eight months earlier, but their world class players had got them past teams with greater reputations and they had emerged as worthy winners. Sadly the night of the 1991 European Cup Final was to prove to be one of the final times that Yugoslavia could come together to celebrate as one.