Home European cup final tickets | History | Gallery | Contact
GALLERY '90 / 1990 Decade / 1990 European cup final tickets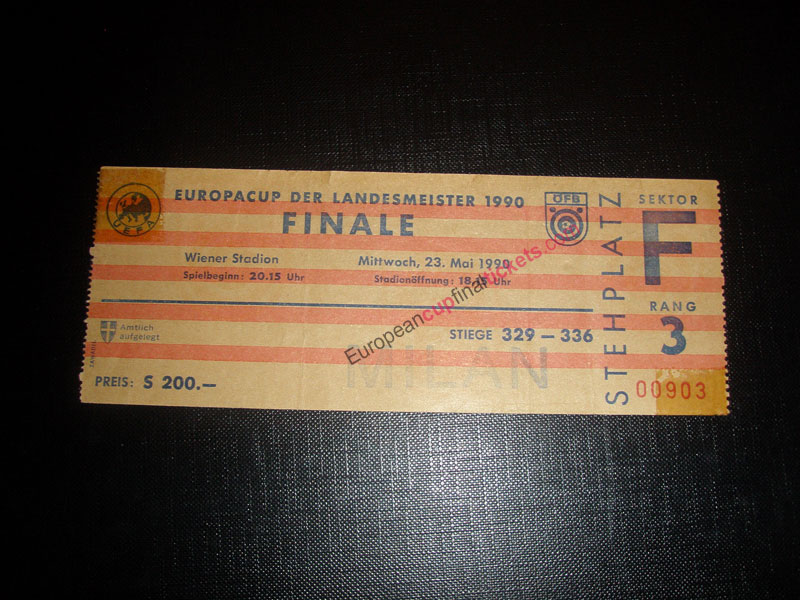 1990 European Cup Final (Vienna)
Milan 1 Benfica 0
Milan: G.Galii, Tassotti, Baresi (capt), Costacurta, Maldini, Colombo (F.Galii), Rijkaard, Evani, Ancelotti (Massaro), Gullit, Van Basten
Scorer: Rijkaard
Benfica: Silvino, Jose Carlos, Ricardo Gomes, Aldair, Samuel, Vitor Paneira (Vata), Hernani, Thern, Jaime Pacheco (capt) (Cesar Brito), Valdo, Magnusson



Milan had won the 1989 European Cup in emphatic style, but if they were to repeat their achievement, they would have to get past an impressive number of challengers. As well as Steaua Bucharest who had reached the previous final, there were 1988 winners PSV Eindhoven and former winners Bayern Munich, Benfica, Real Madrid and local rivals Internazionale who had won the Italian league title. Another team who were likely to challenge for the trophy were Marseille. The French side had been taken over by multi millionaire Bernard Tapie in 1986 and had then been able to sign top players such as Jean-Pierre Papin, Rudi Voeller, Chris Waddle and Enzo Francescoli. As a result, they had won the French league title and now had their sights firmly set on European glory. Marseille had no problem getting through the first round beating Brondby 3-0 in the first leg and going through 4-1 overall. Similarly, AC Milan, PSV and Steaua all progressed with a 5-0 aggregate win while Benfica scored six goals and Real Madrid beat Spora Luxembourg 9-0. Internazionale, on the other hand, failed to get past the Swedes of Malmo. Having lost 1-0 in Sweden, Inter looked to be on the road to victory when they scored with twenty minutes remaining in the second leg, but an Engqvist goal on 80 minutes was enough to send Malmo through and Inter crashing out.

The second round draw ensured that at least two big name teams would be knocked out at this early stage. Steaua Bucharest won their home leg against PSV Eindhoven thanks to a single Lacatus goal, and when the same player scored the opening goal in the second game, Steaua looked to be in a strong position, but that was before PSV's Brazilian striker Romario took centre stage as he scored a second half hat-trick which helped his team to a 5-1 win on the night. The big clash of the round saw Milan take on Real Madrid. Milan were without Gullit who was suffering from a long term injury, but they still had their two other Dutch maestros and it was they who combined to score the opening goal of the tie as Rijkaard headed home a Van Basten cross to send the San Siro wild with delight. A controversial Van Basten penalty made it 2-0 after just 14 minutes, but there were no further goals in the game. At the Bernabeu, Butragueno scored for Real on the stroke of half-time, but the remainder of the game was notable only for it's ugliness as seven yellow and one red card were produced before the final whistle was blown and Milan marched on to the quarter-finals. Among those teams joining PSV and Milan in the last eight were Bayern Munich who beat Nentori Tirana 6-1, Benfica who thumped Honved 9-0, and Marseille who won 3-1 against AEK Athens.

In 1988, the football world had been shocked when a little known Belgian side had beaten mighty Ajax to win the Cup-winners Cup. Now Mechelen had their eyes on an even greater prize but, after having beaten Rosenborg and Malmo, they now had to get past Milan in order to continue their European Cup campaign. Mechelens ground was simply too small to host the champions of Europe so the game was moved to the biggest stadium in Belgium - the Heysel. And so, on the 7th of March, nearly five years on from the darkest day in European Cup history, the Heysel hosted a European club game once more. The occasion may have been significant, but the game was unremarkable as the Belgians were unable to break through Milan's defence and the holders emerged with a goalless draw. If Milan thought that the hard work had been done, however, they were mistaken as they found the Mechelen defence equally hard to breach as 90 minutes in the San Siro also failed to produce a goal. It was not until the second half of extra time that Van Basten finally struck, and a Simone goal in the dying minutes put the tie beyond doubt.

Marseille took on CSKA Sofia in the quarter-finals. CSKA star Hristo Stoichkov was in his final season before heading off to Spain, and he stood out in a tight game in Sofia, but an 85th minute goal from substitute Philippe Thys gave Marseille a crucial first leg lead, and the French champions breezed to a 3-1 home win thanks to goals from Waddle, Papin and Sauzee.

Benfica dominated their first leg against Soviet champions Dnepr in Lisbon, but they only had a Magnusson penalty to show for all their good play and faced a tricky return game. Out in the Ukraine, however, Benfica put on an impressive performance as they scored three second half goals without reply to advance 4-0 on aggregate. The final semi-final place went to Bayern Munich who won a close contest with PSV Eindhoven. After Bayern had won their home game 2-1, there was no score in Holland until the final minute when an Augenthaler free-kick was deflected in by PSV defender Eric Gerets to seal a Bayern victory.

In the semi-finals Marseille played Benfica for the right to play in the European Cup final. In France, Benfica took a shock early lead through Lima, but goals from Sauzee and Papin before half-time put the Frenchmen in the driving seat and they finished the first leg with a 2-1 lead. In Lisbon, Marseille set out to defend their slender lead and, despite being roared on by a passionate 80,000 crowd, Benfica struggled to make any impact on the French goal. With only eight minutes left and the game still goalless, things were getting desperate for the home side as they won a corner. It was then that one of the most controversial incidents in European Cup history occurred. As the ball was swung in, it was flicked on towards the edge of the six yard area where Benfica's Vata stuck out his hand and diverted the ball into the net. The crowd inside the Stadium of Light went wild as the Benfica players celebrated, but the Marseille players furiously surrounded Belgian referee Marcel van Langenhove to protest. Their protests were in vain, however, as the goal stood. Marseille were unable to reply in the remaining few minutes of the game and so, despite their feelings of injustice, they went out on away goals and it was Benfica who went through to the final.

The other semi-final was also extraordinarily close. Milan traveled to Bayern Munich with only a 77th minute Marco Van Basten penalty to show for their efforts in the San Siro and that goal was cancelled out on the hour in Germany when Thomas Strunz scored for Bayern. With the two teams deadlocked at 1-1 on aggregate, Milan were forced, yet again, to endure extra time. The crucial goal came ten minutes into extra time when Milan substitute Stefano Borgonovo lobbed the Bayern goalkeeper to score the all important away goal. Although Bayern did reply at the beginning of the second period of added time through their Scottish centre forward Alan McInally, they could not manage the further goal that they needed and this semi-final was also decided on the away goals rule.

The final, to be played in Vienna's Prater Stadium, was a repeat of the 1963 final at Wembley. 27 years earlier the Milan team had contained Cesare Maldini, and now his son Paolo took to the field in a Milan shirt. Also in the Milan side was Ruud Gullit, despite having played his first game of an injury plagued season just a few days earlier. Under the leadership of their Swedish coach Sven Goran Eriksson, Benfica were looking to their forward pairing of Valdo and Magnusson to break through the Milan defence.

A year earlier, Milan had captivated European football fans with their breathtaking attacking football as their brilliant forward play had been to much for Steaua Bucharest, but this time they adopted a far more cautious approach as they conceded possession to Benfica. Valdo played a prominent role as he kept the Milan defence busy, but it was Milan who made the best chance of the first half as a brilliant Van Basten turn put him through on goal, but his shot was not enough to beat a diving Silvino in the Portuguese goal. With Gullit reintroduced into the Milan attack, the Italian side appeared to be struggling to find their normal rhythm and when they did manage to play Gullit into a good goalscoring position early in the second half, he also shot too weakly to trouble Silvino.

Having seen his two Dutch colleagues fail to convert their chances, it was left to Frank Rijkaard to eventually open the scoring. Milan broke from defence and when Costacurta found Van Basten, the Dutch maestro's first time flick put Rijkaard through on goal and as he ran into the penalty area, he clipped the ball with the outside of his right foot across Silvino and into the corner of the net. There were chances for both teams before the ninety minutes were up, but Rijkaard's goal proved to be the only one of a disappointing final and Milan became the first team since Nottingham Forest in 1980 to retain the European Cup.

Once again Milan were at the summit of European football and again it was a Dutchman who had hit the headlines, but this time it was not Marco Van Basten and Ruud Gullit who were being feted, but their less celebrated compatriot Frank Rijkaard. Along with defenders Maldini, Costacurta, Baresi and Tassotti, Rijkaard had helped keep the Benfica attack at bay when they had enjoyed a significant share of the possession, and when the chance to score had arrived it was Rijkaard who had coolly slotted the ball home. Throughout the campaign, and in the final itself, Milan had been far less impressive than a year earlier, but the end result was exactly the same as they were crowned European champions once more. With Berlusconi and Sacchi in charge, and with the cream of Dutch and Italian football on the pitch, Milan looked set to dominate European football for years to come - it would certainly require something special from their challengers if they were to be denied.