Home European cup final tickets | History | Gallery | Contact
GALLERY '80 / 1980 Decade / 1989 European cup final tickets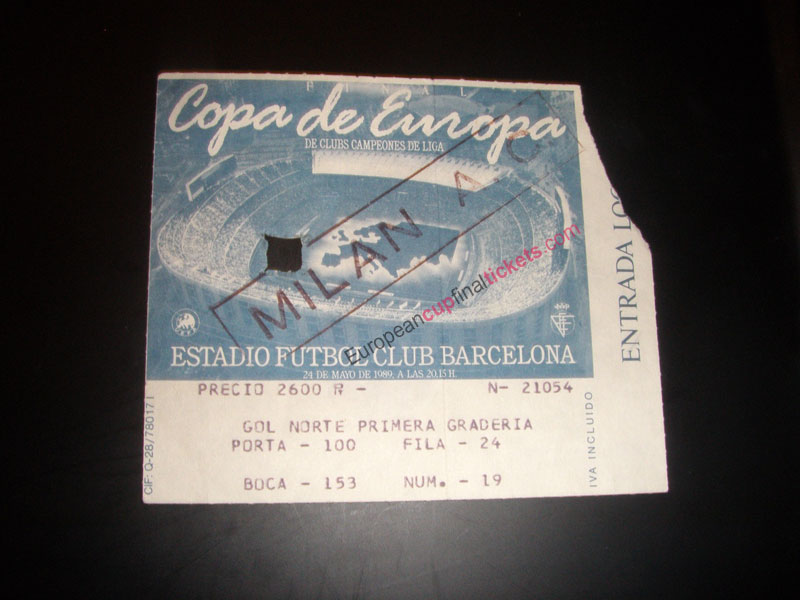 1989 European Cup Final (Barcelona)
Milan 4 Steaua Bucharest 0
Milan: G.Galii, Tassotti, Baresi (capt), Costacurta (F.Galii), Maldini, Colombo, Rijkaard, Donadoni, Ancelotti , Gullit (Virdis), Van Basten
Scorers: Gullit 2, Van Basten 2
Steaua Bucharest: Lung, Petrescu, Bumbescu, Iovan, Ungureanu, Minea, Hagi, Stoica (capt), Rotario (Balint), Lacatus, Piturca

The early 1980's were miserable years for AC Milan with their past glories tarnished by relegation, bribery scandal and debt. The two time European champions were in need of a saviour and he arrived in the shape of media mogul Silvio Berlusconi. Milan's new owner cleared the clubs debts and set about spending millions on buying some of the best players in the world. Under coach Arrigo Sacchi, Milan would play an attacking, pressing game that had rarely been seen in Italy before and they went on to win the 1988 Serie A title before setting their sights on the European Cup. With their trio of Dutchmen who had helped Holland to win the 1988 European Championships Frank Rijkaard, Ruud Gullit and Marco Van Basten alongside some of Italy's brightest stars, they were one of the teams fancied to emerge as 1989 European champions.

Milan signalled their intent in the first round as they won 2-0 away to the Bulgarians of Vitosha Sofia, before winning 5-2 in the San Siro with Van Basten netting four times. Holders PSV Eindhoven received a bye into the second round where they were joined by the likes of Real Madrid who beat Moss FK of Norway 4-0, Steaua Bucharest who had an impressive 7-3 win over Sparta Prague, Celtic who were 4-1 winners over the Hungarians of Honved, and Porto who squeezed through 3-2 against HJK Helsinki. Also through were West German champions Werder Bremen who came back against East German neighbours Dynamo Dresden after losing 3-0 in the first leg. Thanks to four second half goals they won the return match 5-0 to eventually progress with unexpected ease.

Bremen's comeback was copied by Galatasaray in the second round as they came back from a 3-0 defeat at the hands of Neuchatel Xamax to beat the Swiss side 5-0 in the second leg thanks to three goals in the final twelve minutes. Monaco, managed by young French manager Arsene Wenger, put six goals past Club Brugge in their home leg to win 6-2 on aggregate, while Steaua Bucharest had few problems in disposing of Spartak Moscow 5-1 overall.

The second round draw paired the two most recent European Cup winners as holders PSV played 1987 winners Porto. The tie was as good as over after the first match as the Dutch side won 5-0 in Eindhoven to demonstrate that they would not be giving up their crown without a fight. Real Madrid found their second round match much more difficult, despite winning 1-0 away to Gornik Zabrze thanks to a Hugo Sanchez penalty. Another Sanchez goal early on in the Bernabeu looked to have killed the Poles off, but Gornik goals either side of half-time had Real facing elimination on away goals. Eventually, late goals from Butragueno and Sanchez were enough to send the Spaniards through. Also finding it difficult to get through this early round were Milan. Up against Red Star Belgrade, they could only manage a 1-1 draw at home and were in trouble when Savicevic put the Yugoslavs ahead in Belgrade on 50 minutes. Fortunately for them, Milan were saved when the game was abandoned by referee Dieter Pauly after 61 minutes due to fog, but they were not out of the woods yet. Van Basten gave Milan a first half lead, but Stojkovic equalised soon afterwards and there were no further goals in either normal or extra time. The tie was then settled by a penalty shootout where Milan were saved by their goalkeeper Giovanni Galli who stopped shots from both Savicevic and Mrkela to knock Red Star out.

It was just over two years since Steaua Bucharest had pulled off one of the most unexpected victories in European Cup history by beating Barcelona in the 1986 final. Now the likes of Iovan, Bumbescu, Lacatus and Piturca who had played in that victorious team, had been joined by top players such as Petrescu, Dumitrescu and, most significantly, the brilliant attacking midfielder Georghi Hagi. Many commentators considered this Steaua team to be better than its predecessor, and they were able to use their quarter-final performance against Gothenburg as evidence. Coming back from a 1-0 first leg defeat, Steaua destroyed the Swedes 5-1 thanks to a Lacatus hat-trick and goals from Dumitrescu and Balint. Also through to the semi-finals were Galatasaray who knocked out Monaco after winning 1-0 in the Principality before drawing their home leg 1-1. Another close tie saw Milan squeeze past Werder Bremen thanks to a solitary Van Basten penalty in the San Siro.

The tie of the quarter-finals pitted holders PSV against Real Madrid. Since winning the European Cup, PSV had invested in a young Brazilian forward named Romario who was now taking the Dutch League by storm with his goalscoring and he was to live up to his reputation against Real. In Holland Romario cancelled out Butragueno's strike on the stroke of half-time, and in the second leg he scored on 84 minutes to equalize Sanchez's penalty and send the tie into extra-time. In the dying moments of the first period of extra-time, Martin Vazquez put Real ahead for a third time, and this time neither Romario or any of his teammates were able to respond and the holders went out of the competition.

The draw for the semi-finals pitted together the two glamour teams, Milan and Real Madrid, while Galatasaray would face Steaua Bucharest. Galatasaray were aiming to be the first Turkish side to reach a European final, but they were blown away by a Steaua team that continued its impressive form. The first half in Bucharest saw the home team gain control thanks to an early own goal and a Hagi penalty. Two further goals in the second half from Petrescu and Balint put Steaua on the verge of the final. The second leg in Izmir saw Galatasaray gain some hope when Tanman scored on 36 minutes, but when Dumitrescu headed home a Hagi cross just three minutes later, the tie was as good as over and Steaua were through to another European Cup final.

The clash of the giants began in Spain where Real were at home to Milan. Sanchez gave the Spaniards the lead when he volleyed home a Schuster corner just before half-time. With less than 15 minutes remaining, Van Basten gained a crucial equaliser as his powerful diving header hit the bar and rebounded off the back of goalkeeper Buyo into the goal. Milan had begun the competition with a host of big name stars and a big reputation , but in their last six European Cup games they had struggled through with five draws and a 1-0 win. The second leg of their semi-final, however, was the moment that they announced themselves to the footballing world as the top team in Europe. Milan tore into their opponents, and Real were powerless to reply. First a Carlo Ancelotti screamer from 30 yards found the top corner of the Real net. Rijkaard headed home the second, and another header from Gullit made it 3-0 by half-time. Just after the interval a long pass from Rijkaard found the head of Gullit who nodded the ball down to Van Basten and he rifled the ball into the net. Finally, on the hour, the rout was completed when Donadoni's shot from the corner of the penalty area beat Buyo at his near post to make it 5-0.

Managed by Anghel Iordanescu, who had come on as substitute in their previous final appearance, Steaua were without the suspended Dumitrescu, but still possessed plenty of goalscoring potential with their dangerous counter attacking midfielders Hagi, Petrescu and Stoica and accomplished forward Lacatus. Milan were hoping that Gullit would prove to be fully recovered from the cartilage operation that he had undergone after the semi-final with Real.

In the event, the final could hardly have proved more different from the last time Steaua had appeared in Europe's showcase game. Instead of a plucky underdog stifling the nervous favourites and holding on to win on penalties, on this occasion the favourites justified their position with an exhibition of brilliant, thrilling football. Sacchi the Milan coach had set out to attack Steaua with Rijkaard moving up into midfield and full backs Tassotti and Maldini pushing forward and playing almost as wingers.

It did not take long for Milan to break through. Gullit almost opened the scoring after quarter of an hour when Baresi put him clear, only for his shot to rebound away off the post. A few minutes later and Milan were ahead when Van Basten's cross shot was only parried by Lung in the Steaua goal and Gullit prodded home the rebound. On 26 minutes a Milan corner was cleared only as far as Tassotti and his cross was headed home by Van Basten. With 38 minutes on the clock, Gullit scored the best goal of the night as he crashed a volley into the roof of the net to make it 3-0. The interval brought a brief respite for the Romanians, but within moments of the restart Van Basten strolled onto Rijkaards pass and steered the ball home. The game was now won, and with Milan wasting further opportunities to score, the highlight of the remainder of the game was the standing ovation afforded to Ruud Gullit when he was substituted on the hour. There were no more goals and the match finished 4-0.

Franco Baresi lifted the European Cup as the thousands of Milan supporters celebrated the most comprehensive win in a European Cup final since the 1974 replay and pundits drew comparisons with Real Madrid's performance in 1960. Whether or not Gullit, Van Basten and the rest of the team were as good as the likes of Di Stefano and Puskas was a matter of opinion, but the fact was that Milan were now undoubtedly the top team in Europe and, with the financial might of Silvio Berlusconi behind them, they looked set to rule over European football for many years to come.