Home European cup final tickets | History | Gallery | Contact
GALLERY '80 / 1980 Decade / 1986 European cup final tickets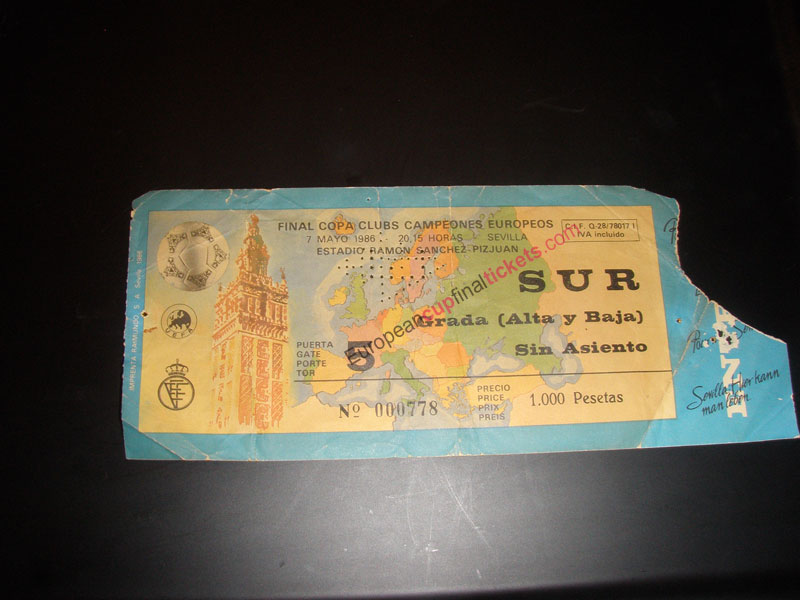 1986 European Cup Final (Seville)
Steaua Bucharest 0 Barcelona 0 (2-0 penalties)
Steaua Bucharest: Ducadam, Iovan (capt), Bumbescu, Belodedici, Barbulescu, Majaru, Balan (Iordanescu), Boloni, Balint, Lacatus, Piturca (Radu)
(Penalty Scorers: Lacatus, Balint)
Barcelona: Urruti, Gerardo, Migueli, Alexanko (capt), Julio Alberto, Victor, Schuster (Moratalla), Carrasco, Pedraza, Archibald (Piichi Alonso), Marcos

Two days after the tragedy of Heysel, the Football Association withdrew all English clubs from European competition for twelve months. A further two days later, UEFA imposed an indefinite ban. On June 20th, UEFA announced that Liverpool would be banned for three years in addition to the indefinite ban on English clubs. They also ordered Juventus to play their next two European games behind closed doors, and banned Belgium from hosting European finals for ten years. Before Liverpool reached the 1985 final, English teams had won seven of the previous eight European Cups, but Everton, the 1985 English champions and winners of the Cup-Winners Cup, would be denied the chance to follow them and so the competition would now have a very different look to it with more clubs feeling that they had a chance of winning it.

Juventus had finally won a European Cup, but their victory had been irrevocably tarnished by the terrible events at Heysel, so they were now determined to celebrate a victory that would be untarnished by tragedy. Boniek, Tardelli and Rossi had all left and been replaced by, amongst others, striker Aldo Serena and playmaking Danish midfielder Michael Laudrup who had been signed a year earlier and loaned out to Lazio. They began their defence of the trophy with a 9-0 aggregate win over Jeunesse Esch of Luxembourg with Serena scoring a total of four goals.

Barcelona were back in the competition after an eleven year absence, as desperate as Juventus had ever been to win their first European Cup. Under the management of Englishman Terry Venables they had just won their first Spanish Championship since 1974. With the temperamental German Bernd Schuster pulling the strings in midfield, Julio Carrasco on the wing, and Scotsman Steve Archibald up front, Barcelona were one of the leading contenders for the 1985/86 tournament. Barca had a much rockier 1st Round tie than that which Juventus had enjoyed. Drawn against Sparta Prague, they had gone a goal down early on in Czechoslovakia before recovering to win the first leg 2-1 thanks to two Clos goals. Back at home, however, they were rocked by an 8th minute Sparta goal and were only able to hang on till the end when they sneaked through on away goals.

Two teams that had won the European Cup in the past had differing fortunes in the first round. Ajax went out after a 2-0 defeat in Portugal to Porto was followed by a goalless draw in Amsterdam. But Bayern Munich were safely through after beating Gornik Zabrze 6-2 on aggregate.

The second round draw gave the two favourites difficult tasks. Juventus were drawn against fellow Italians and reigning Serie A champions Verona. Verona had been surprise champions and would only finish 10th in 1986, but they fancied their chances of doing what little known Nottingham Forest had done to Liverpool in similar circumstances just six years earlier. In the event, however, Juventus were too good. After a goalless draw, Juve did enough in Turin as a first half penalty from Platini and a second half goal from Serena saw the holders through to the quarter-finals.

Barcelona were paired with Porto and they seemed to have established a commanding lead in the Nou Camp when second half goals from Marcos and Schuster gave them a 2-0 first leg lead. All was progressing smoothly for Barcelona until the 67th minute in Portugal when Juary scored to leave Porto just one goal behind. Three minutes later Juary struck again to put his team level, but the Portugese celebrations were short lived as Archibald put Barcelona ahead once more on 73 minutes. With two minutes remaining, however, Juary completed his hat-trick and left Barcelona hanging on before going through on away goals once more.

Bayern Munich were also through as they won a high scoring tie against Austria Vienna 7-5 on aggregate, but there were surprises elsewhere as the Finns Kuusysi Lahti knocked out Russian champions Zenit Leningrad after extra time, and Swedens IFK Gothenburg thrashed Fenerbahce 4-0 before progressing 5-2 on aggregate.

In the opinion of many, the ideal final would have been Barcelona v Juventus, but they were to be denied by the Quarter-Final draw which pitted these giants of European football together. The first leg was in the Nou Camp and was dominated by the home team, despite them being without Schuster and Caldere in midfield and Rojo, Marcos and Clos up front. With Juventus employing extremely defensive tactics, it took a late spectacular shot from full back Julio Alberto with only eight minutes remaining to break through the Italian defence and so Barcelona had to travel to Turin with just a one goal lead. In Turin Juventus completely dominated, but without the missing Serena and Briaschi in attack they missed a succession of easy chances. The pain of those misses was compounded when Archibald headed home a Victor cross after half an hour. Platini did score for the holders just before half time but, despite intense Italian pressure, Barcelona held on to record a 2-1 aggregate win and proceeded through to the semi-finals.

Anderlecht had reached the European Cup semi-final in 1982, had won the UEFA Cup in 1983 and only lost the 1984 UEFA Cup final on penalties. In 1985 they had regained the Belgian league title and had set their sights on a European Cup challenge. With Danish captain Morten Olsen at the back, the hard working Franky Vercauteren and the brilliant Enzo Scifo in midfield, along with the free scoring Erwin Vandenbergh up front the Brussels team were one of the most fancied teams in the competition. Having comfortably despatched Omonia Nicosia in the second round, the Belgians faced a much sterner test in the quarter-finals as they came up against Bayern Munich. The tie appeared to be going Bayerns way when they took a two goal first half lead in Munich, but a 72nd minute goal from the Danish midfielder Andersen gave Anderlecht hope for the return match. The last six minutes of the first half proved pivotal in the second leg as goals from Scifo and Primann put the Belgians ahead, and Bayern were unable to claw their way back. With both Juventus and Bayern out of the competition, a new winner was now guaranteed.

The Scots of Aberdeen who had won the Cup-Winners Cup in 1983 were highly rated, but they were surprisingly knocked out by IFK Gothenburg. Aberdeen were undone by a 2-2 draw at home which meant that the goalless draw that the Swedes earned in the return match was enough to send them through on away goals. Meanwhile, Kuusyi Lahti of Finland and the Romanians Steaua Bucharest played out a dull but closely fought tie that was only decided by a goal four minutes from time in the second leg from Piturca that sent Steaua through to the last four.

In order to reach their first European Cup final in 25 years, Barcelona only had to beat IFK Gothenburg. Few people imagined that they might fail. But the Swedish champions were determined to make the most of their chance and in the first leg in Sweden they shocked Barcelona with a stunning display. Gothenburg had already come close before they took the lead on 24 minutes when Ekstrom's headed flick reached veteran forward Torbjorn Nilsson and he drove the ball home. Moments before half-time, Nilsson found himself with a view of the goal again and once more he beat goalkeeper Urrutti from an acute angle to make it 2-0. The second half saw Barcelona emerge with renewed determination, but that merely opened them up to the counter attack and a typically fast breakaway saw Holmgren score a third on the hour. Nilsson still had time to hit the post and there were other chances for Gothenburg before the end, while the Catalan giants, playing without the injured Archibald, rarely threatened the Swedish goal, although Marcos hit the bar in the dying moments. The 3-0 scoreline was a shock for Barcelona, but it could have been even worse. Shellshocked manager Venables said: 'Gothenburg are an excellent team, but we made it too easy for them. They fully deserved their win but we still have a chance in the return.'

Venables team knew that they had to attack Gothenburg from the start of the second leg if they were to have any chance of reaching the final, and so they threw themselves forward virtually from the opening whistle. The early goal that was so important came after just ten minutes when Pichi Alonso ran onto a Caldere pass and muscled his way through two tackles before shooting past Wernersson in the Gothenburg goal. The Swedes responded by putting the home goal under sustained pressure. Anderssons shot was denied only by a brilliant Urruti save, and the same player should have scored instead of blazing over the bar with the goal at his mercy. Then on 35 minutes the ball hit the post before Andersson scrambled it into the net . Gothenburg appeared to have scored the goal that would almost certainly have taken them to the final, but Urruti chased the referee to the halfway line and persuaded him to consult his linesman. The referee eventually walked over to his assistant and, after some deliberation, they agreed that the ball had gone out of play and that the goal should be disallowed. As the game entered its final half an hour, the impetus seemed to have gone out of Barcelonas play and they appeared to be drifting out of the competition, but Alonso then struck again on 63 minutes to make it 2-3 on aggregate, and six minutes later he completed his hat-trick with a header that levelled the overall scores. There were no further goals in the 90 minutes so extra time was required. Within moments of the restart Gothenburg came close to winning when Ekstrom hit the post, but there were no more goals and the tie went to a penalty shootout.

In the shootout, Carrasco's miss put Gothenburg on the verge of the final once again, but Urruti made himself a Barca hero when he not only saved what could have been the winning penalty by the Swedes, but went on to score himself. He then challenged Warnersson the Swedish goalkeeper to do the same. Put off by Urruti's mind games, the Swede missed his spot kick, leaving it up to Victor to score the winning goal. The Nou Camp exploded with joy as the Barcelona fans celebrated their first final in 25 years and started to plan the short trip to Seville where the final was to be played.

The favourites to face Barcelona in Seville were Anderlecht who were expected to comfortably dispose of the Romanians Steaua Bucharest. In the first game in Brussels, however, the Belgian champions struggled to break through a stubborn Romanian defence, and it was only a brilliant lob from Scifo in the last ten minutes which cleared the head of the Steaua goalkeeper before dropping into the net that gave Anderlecht a lead that they could protect in Bucharest. The second leg brought a performance from Steaua that they had not hinted at in previous rounds. Straight from the first whistle they attacked the Belgians who were unable to withstand such pressure. After only four minutes the tie was level as Piturca took a long pass from Barbulescu to rifle the ball home. The Belgians were rattled and found themselves swamped during the first twenty minutes. Hlalfway through the first half, it was 2-0 as Balint scored with a close range volley. One away goal would still have been enough for Anderlecht to go through, but they rarely threatened the Steaua goal and it was the Romanians who eventually scored the decisive goal when Piturca headed home in the 71st minute. There may only have been 35,000 spectators, but the scenes were the equal of those in Barcelona as the Steaua supporters wildly celebrated an unexpected but famous victory that saw their team become the first Romanian team to reach a European final.

Seville was invaded by 50,000 Barcelona supporters for a final that they fully expected to win. 300 buses, a dozen aeroplanes and 6 trains were commandeered to get the Barca hordes to the Sanchez Pijuan Stadium where they would be met by only a handful of Steaua fans. Within the Barcelona camp, however, things were far from perfect. Their Scottish goalscorer Archibald had been suffering from groin and hamstring problems for over a fortnight and had chosen to fly out to Amsterdam to consult a Dutch physiotherapist in an attempt to be fit for the final. On his return, the striker pronounced himself fit and was reinstated in the team at the expense of the popular Alonso whose hat-trick in the semi-final had enabled Barcelona to come back against Gothenburg. Also of concern to Venables was the lack of fitness of his captain Schuster who had been struggling with a niggling injury for some time.

In front of a partisan Spanish crowd, Steaua made their negative approach clear right from the start. Within twenty minutes they had begun to waste time to the frustration of Barcelona who were already being constrained by a defensive side who stopped Barca's flow and rhythm. Miodrag Belodedici swept up behind the Steaua defence while forward Ladislau Boloni moved into the middle of the pitch where he closed down his midfield opponents to great effect. Venables may have promised beforehand that Barcelona would 'stick to our principles of playing in an open, adventurous fashion,' but the Steaua tactics made that virtually impossible. In a game of very few chances, Barcelona only threatened in the periods just before and after the interval, but at that point Steaua coach Emerich Jenei brought the veteran 36 year old Angel Iordanescu off the bench to shore up the defence and ensure that the game went to a penalty shootout. On 85 minutes, Schuster was controversially substituted and the furious captain walked straight off the pitch and out of the stadium. In the first few minutes of extra time, Archibald was also taken off, having made little contribution to the game.

It soon became sadly inevitable to the tens of thousands inside the stadium and the millions watching on television that the game would have to be decided by penalties and, after 120 dull and almost chanceless minutes, they were proved correct. It was to be a battle of goalkeepers with Barcelona's semi-final hero Urruti up against Steaua's Ducadam and neither man would let his side down. First up was Steaua's Majearu, and Urruti sent the stadium wild as he saved the penalty. Not to be outdone, Ducadam then saved from Alexanko. Incredibly, the spot kicks from Steaua's Boloni and Barcelona's Pedraza were also saved. Four penalties taken - none scored. Urruti was finally beaten when Lacatus found the net, but Ducadam saved again to leave Steaua with a 1-0 lead after three penalties each. Balint then found the net for the Romanians which meant that Marcos had to score to keep Barcelona's hopes alive. Unbelievably, Ducadam saved for the fourth time and was engulfed by his jubilant teammates to a backdrop of silence from the disbelieving Barcelona supporters. Back in Bucharest, there was singing and dancing for the first time in decades on the tightly controlled streets. The spontaneous celebrations provided a rare evening of liberation for the inhabitants of one of Europe's most downtrodden countries.

For Barcelona the evening was a disaster. They had failed with their best chance ever to win a European Cup title and would have to remain in the shadow of their great rivals Real Madrid. But for Steaua it was a remarkable achievement. Few people had given them any chance against the superstars of Catalonia, but their gameplan had worked and thanks to their hero Helmut Ducadam they had emerged triumphant. Having kept the Barcelona attack at bay for a full 120 minutes, he had then saved all four penalties in the shootout and was rightly hailed a national hero on his return to Romania. Steaua had won a victory for the whole of Eastern Europe as the European Cup trophy went behind the Iron Curtain for the first time and it was Ducadam who had made it all possible.