Home European cup final tickets | History | Gallery | Contact
GALLERY '80 / 1980 Decade / 1985 European cup final tickets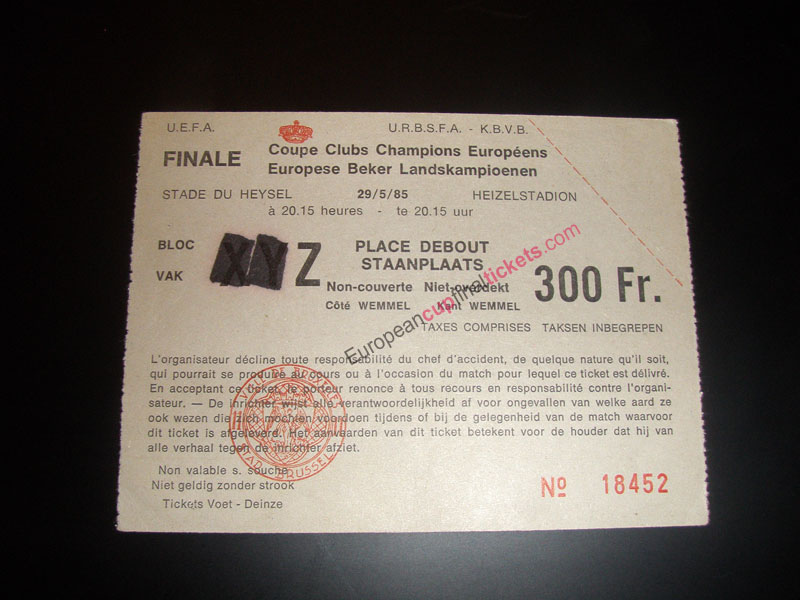 1985 European Cup Final (Brussels)
Juventus 1 Liverpool 0
Juventus: Tacconi, Favero, Brio, Scirea (capt), Cabrini, Bonini, Platini, Tardelli, Briaschi (Prandelli), Rossi (Vignola), Boniek
Scorer: Platini (pen)
Liverpool: Grobbelaar, Neal (capt), Lawrenson (Gillespie), Hansen, Beglin, Nicol, Whelan, Wark, Rush, Dalglish, Walsh (Johnston)


The 1984/85 European Cup campaign was always going to be about two teams - the holders and four times winners Liverpool and the free spending ,star studded Juventus who were still chasing their first ever European Cup win. Graeme Souness, Liverpool's hard tackling and inspirational captain had left for Sampdoria, but they had brought in the strong and hard running John Wark from Ipswich and tricky forward Paul Walsh from Luton. Juventus had kept the majority of their 1983 European Cup Final team together and had regained the Serie A title a year earlier as well as winning the Cup-Winners Cup.

The holders had to begin their campaign in Poland - the country where they had last been knocked out of the country. This time they were up against Lech Poznan whose manager had stated beforehand that if his team did not reach the last four he would resign. Even without Rush, Johnston and the departed Souness in the team, however, Liverpool were able to produce a typically professional European away performance as they proceeded to dominate the game in Poland. Having survived a scare when Adamiec headed against the crossbar, Liverpool gained a crucial away lead when Wark timed his run into the penalty area perfectly to finish off a Sammy Lee cross. The return match in England saw Wark score another three times as Liverpool went through 5-0 on aggregate.

Wark was not the only hat-trick hero of the first round as Paolo Rossi, not to be outdone, scored three to go alongside Michel Platini's penalty in Finland as Juventus thrashed Tampere 4-0. Platini then scored another two in a 2-1 second leg win.

Elsewhere, several of the traditionally strong footballing countries found themselves without any representation in the competition as their teams went out in the opening round. German champions Stuttgart could only draw 2-2 at home with Levski Spartak of Bulgaria after a 1-1 first leg draw and went out on away goals. Scotland's Aberdeen were well placed as they led Dynamo Berlin 2-0 going into the last 10 minutes of their home leg, but let in a late goal to put the tie back in the balance. In Berlin Aberdeen were again looking like favourites with the score at 1-1 until they conceded a goal with 6 minutes left and went on to lose on penalties. The Dutchmen of Feyenoord also went out at the first hurdle as they followed a 0-0 draw with a 2-1 defeat in Greece against Panathinaikos. Athletic Bilbao were unfortunate to be paired with a Bordeaux side that contained famous French stars such as Battiston, Lacombe, Giresse and Tigana as well as the German forward Dieter Muller. Bilbao did manage to gain a 2-1 lead in France but were eventually beaten 3-2 and went out after a 0-0 draw in Spain in which they had two goals disallowed which saw the crowd pelt the referee with missiles. Red Star Belgrade also went out despite recovering from being 2-0 down at half-time in their home leg against Benfica to record an impressive 3-2 win. With 20 minutes remaining in Lisbon Red Star were still ahead, but two late goals from Carlos Manuel sent Benfica through and the Yugoslavs out.

There was always likely to be trouble in store when Linfield of Northern Ireland with their staunchly Protestant fan base were drawn to play Shamrock Rovers of the Irish Republic, and so it proved. Despite being played in the afternoon for security reasons and with all surrounding streets and schools being closed, there were still ugly clashes between police and supporters as Linfield followed a goalless draw at home with a 1-1 scoreline in the return match to progress on away goals.

Linfield were not expected to go any further in the competition, especially when they were drawn against former European Cup finalists Panathinaikos. The Greeks, however, were given a shock in Athens when the Irish team took an early lead and only a penalty given for handball and a winner three minutes from time gave them a slender first leg lead. Panathinaikos were given an even greater shock back in Belfast when they found themselves 3-0 down after just 26 minutes. They fought back, however, through a Saravakos penalty on 29 minutes and further goals from Rocha (33 minutes) and Antonio (63 minutes) and survived a late scare when Rocha was sent off 7 minutes from time to edge through to the quarter-finals.

Going into the second round, Liverpool were in the midst of a domestic crisis. Having just lost at home to their Merseyside rivals Everton and having amassed only 11 points from 11 league games, it seemed that they were not the powerful force of old which may have given some hope to Benfica their next opponents. But although Liverpool were some way below their best, the intelligence of Dalglish and the finishing of Rush were enough to give them a 3-1 win at home with Rush scoring all three. The second leg, however, was a very different affair. After four days of constant lashing rain, the Stadium of Light pitch was almost unplayable with the ball often stopping in puddles. Liverpool hoped to see out the opening stages in their customarily professional way, but their plans had to be torn up when Grobbelaar brought down Jorge Silva in the penalty area and Manniche scored from the penalty spot. The holders then found themselves hanging on to their aggregate lead. As the game approached half-time, however, there was great controversy as Liverpool's Dalglish and Benfica's Pietra were sent off after squaring up to each other. The game then became more open with Grobbelaar being forced to make several good saves while Rush hit the woodwork at the other end before the game finished with Liverpool going through 3-2 on aggregate.

Juventus had little trouble in dispensing with Grasshoppers of Zurich. Goals from Vignola and Rossi gave them a 2-0 win in Turin and two from Platini helped Juve to a 4-2 win in Switzerland. Also through were Bordeaux although they had to work hard to get the better of Dinamo Bucharest. Having gone to Romania with a 1-0 lead, Bordeaux were pegged back by a 9th minute Dinamo goal and it was not until the 23rd minute of extra time that Lacombe scored to put the French side into the last eight.

Liverpool were now without the suspended Dalglish for the quarter-final, but they fortunately avoided any of their main rivals when they were drawn against FK Austria. In Vienna they were rocked when a 25 yard Polster thunderbolt gave the Austrians a first half lead, but they scored a crucial equaliser with just 5 minutes remaining when a free-kick was only parried by the goalkeeper and Nicol first scooped the ball onto the bar and then nodded in the rebound. At Anfield Liverpool had little trouble as they won 4-1 with Walsh scoring two and missing a late penalty.

Bordeaux looked as though they would overwhelm Russian champions Dnipro as they took the lead through Lacombe on ten minutes and were awarded a penalty 10 minutes later, but goalkeeper Sergei Krakovski saved Dieter Mullers penalty and despite constant Bordeaux pressure, Lyuty's 43rd minute equaliser was the only further goal and so the Ukrainians were well placed for the return leg on their home territory. The second game was played in Krivy Rog because Dniepropietrovsk was closed to foreigners and Bordeaux requested that it be postponed for 24 hours after they were delayed due to fog, but UEFA refused and the game went ahead as planned. After 90 minutes of play and a further 30 minutes of extra time the score was 1-1 and so the tie was decided by a penalty shootout in which Bordeaux held their nerve to win 5-3.

Two players were sent off and seven booked as Panathinaikos gained a 1-0 win in a rugged encounter away to IFK Gothenburg. The winning goal came from a penalty on 50 minutes after the Greek Dimopoulos was brought down by the Swedish goalkeeper and Saravakos converted the penalty. In Athens it was another Saravakos penalty that proved decisive when, with only 12 minutes remaining and Gothenburg leading 2-1 and ahead on away goals, Saravakos was brought down in the penalty area and got up to score the crucial penalty himself.

Juventus continued their comfortable progress through the competition with a 3-0 first leg win over Sparta Prague courtesy of goals from Tardelli, Briaschi and Rossi. A late goal for Sparta was not enough to cause the Italians much concern in the second leg.

The semi-finals appeared to be decided after both first legs had been played. Liverpool were drawn against Panathinaikos who were considered to be the weakest of the remaining four teams. The Greeks set out to nullify the Liverpool attack in the first leg in England and looked to be succeeding as they passed the half hour mark with the score still 0-0. In fact, the Greeks could even have been leading if their goal on 15 minutes had not been disallowed for offside. But on 35 minutes goalkeeper Laftsis could not hold a speculative drive from MacDonald and Wark was on hand to put away the rebound. In the few minutes after half-time Rush sealed victory with goals from a left-wing and a right-wing cross into the penalty area. When Dalglish, now returned from suspension, floated in a free kick for Beglin to power home a header to make it 4-0 near the end, the tie was as good as over. Panathinaikos never really threatened to overcome a four goal defeicit in the second leg and Liverpool's dominance was merely emphasised when Lawrenson played a one-two with Whelan before scoring on the hour to achieve a 5-0 aggregate scoreline and book their place in the Final.

Juventus were in a similarly strong position after their game at home to Bordeaux. Ironically it was Platini, up against his French international midfield partners Giresse and Tigana who dominated the match. It was Platini whose 30 yard pass on the half hour put Boniek through to score the opening goal. Then on 68 minutes Platini put Briaschi away and he shrugged off a French defender before doubling Juve's lead. Then just two minutes later it was Platini himself who rifled home a Boniek cross to make the score 3-0. With a three goal lead, Juventus were expected to progress as comfortably as Liverpool had done, but Bordeaux were to give them some nervous moments first. Juventus had early chances in France to increase their aggregate lead, but it was Dieter Muller for Bordeaux who opened the scoring in the first half with a header to give the home side some hope. With ten minutes remaining and Bordeaux in desperate need of a goal Battiston hit a 30 yard shot which went in off the post to set up a grandstand finish. If Bodini had not made a brilliant save in the last minute to deny Tigana, there would have been extra-time and Bordeaux with the crowd and momentum behind them would have been favourites, but Juventus just managed to hang on and go through to the final 3-2 on aggregate.

And so Europe looked forward to the 'Dream Final' in Brussels between the two teams that had dominated the 1984/85 competition from the start. Juventus had the big stars but they had lost two European Cup finals before and had nearly cracked under Bordeaux pressure in the semi-final. Liverpool had endured a disappointing domestic season and were considered to be less impressive than they had been in previous seasons, but they had plenty of European Cup experience and had shown a year earlier how they could win a European Cup final against the odds.

Tragically, the game was a mere footnote to the horror that was the Heysel Disaster. 39 innocent Juventus supporters were killed when Liverpool followers charged a section of Juventus fans. The Italian supporters rushed to the corner of their section to get away from the violence and a crush ensued which resulted in a wall collapsing. Controversially the game went ahead - almost an hour and a half late - in an attempt to stop further violence occurring. There are differing accounts concerning whether the players were aware of the full horror that had occurred in the stadium that evening, but most people regarded the match itself as an irrelevance. For the record, after an hour Boniek was brought down by Gillespie and, although the foul seemed to be outside the penalty area, the referee pointed the spot and Platini scored from the resulting penalty. Juventus won 1-0 and lifted the European Cup for the first time, but they could not have done so in more tragic circumstances.