Home European cup final tickets | History | Gallery | Contact
GALLERY '80 / 1980 Decade / 1984 European cup final tickets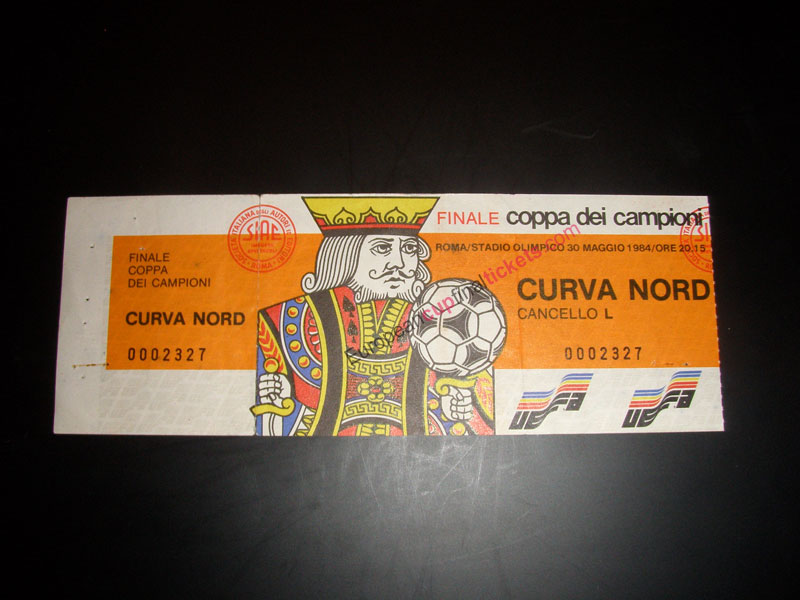 1984 European Cup Final (Rome)
Liverpool 1 Roma 1 (4-2 penalties)
Liverpool: Grobbelaar, Neal, Lawrenson, Hansen, A.Kennedy, Lee, Johnston (Nicol), Whelan, Souness (capt), Rush, Dalglish (Robinson)
Scorer: Neal - (Penalty Scorers: Neal, Souness, Rush, Kennedy)
Roma: Tancredi, Nappi, Bonetti, Righetti, Nela, Conti, Di Bartolomei (capt),Cerezo (Strukelj), Falcao, Pruzzo (Chierico), Graziani
Scorer: Pruzzo - (Penalty Scorers: Di Bartolomei, Righetti)


The 1983/84 European Cup began with four former winners taking part. The holders Hamburg received a bye through to the second round, while both Liverpool (6-0 winners over Odense) and Benfica (6-2 winners against Linfield) progressed with ease past the opening round. They were not joined, however, by Ajax who could only draw 0-0 with Olympiakos in Amsterdam. In the second leg there was a further goalless stalemate before extra-time provided two goals from Anastopoulos to send the Greeks through. The ever dangerous Bulgarians of CSKA Sofia appeared to have done enough when they beat Omonia Nicosia 3-0 in their home leg, before taking an early lead in Cyprus. But Omonia gave CSKA a scare as they followed their two goals either side of half-time with a further two goals in the final ten minutes to leave the Bulgarians hanging on to progress on away goals.

Hamburg started their defence of the trophy with a tie against Dinamo Bucharest who, after ten attempts, had still to get past the European Cup 2nd Round. The start of the first leg in Romania was held up for several minutes after fireworks were thrown onto the pitch, and the holders may have been affected by the intimidating atmosphere as they struggled to cope with Dinamo's attacking football. Augustin put the home side ahead on 28 minutes and moments later a firework exploded next to the Hamburg bench. Things got even worse for the defending champions in the second half, however, as goals from Multeson and Orac gave Dinamo a commanding 3-0 first leg lead.

Despite being without several first team players, Hamburg put on a second leg performance that looked to have achieved a remarkable comeback. Goals from Dietmar Jakobs either side of half-time had given the home supporters hope, and a 62nd minute strike from Thomas van Heesen levelled the overall scores. But Dinamo ruined their evening with two goals in the last five minutes to send the holders crashing out at the first hurdle.

The elimination of Hamburg left the way open for the likes of Roma to make it to the latter stages. The Italians had the extra incentive of knowing that the final was to be played in their own stadium and they looked like one of the teams most likely to contest that final as they gained an impressive 1-0 win away to CSK A Sofia courtesy of their outstanding Brazilian Falcao, and followed that with another 1-0 in the return thanks to an 80th minute Graziani goal. Having knocked out Ajax, Olympiakos were then faced with playing another former winner and this time the task proved too much for them as Benfica beat them 3-1 on aggregate.

Liverpool had the difficult task of overcoming Athletic Bilbao. This task was made all the more difficult when they could only draw their home game 0-0. Bilbao had only lost one of their 31 European games at home and that had been fifteen years earlier, but their impressive home record was spoilt by a Liverpool team who used all the knowledge that they had built up from years of European experience. Bilbao had some early chances, but they were wasted and as the game went on, Liverpool took an increasing hold on proceedings. The breakthrough came on 66 minutes when Ian Rush flicked a header past Zubizarreta in the Bilbao goal, and the home side never threatened to recover from then on.

After they had pushed the all stars of Juventus so close a year earlier in the same competition, the Belgian champions Standard Liege were hopeful of making an impact again, especially as they had now signed Horst Hrubesch, the man whose goals had steered Hamburg to the European Cup the previous May. Having put eleven goals past Athlone Town in round one, they were now up against Dundee United who had upset the traditional powers of Celtic and Rangers as well as Aberdeen who had just won the Cup-winners Cup, to win the Scottish championship for the first time in their history. Unfortunately for Standard, Hrubesch was carried off in the first leg with a calf injury that would rule him out for several weeks. There were no goals in Liege, but when the two sides met again in Dundee, the Belgians were swept aside by a devastating display by the Scottish side. The score finished 4-0 but had United's finishing matched the rest of their play that score could certainly have been doubled. Such an impressive win had Dundee United's supporters dreaming of matching or even surpassing the achievement of their neighbours Dundee who reached the semi-finals over twenty years earlier.

The Quarter-Finals brought together two of the biggest names remaining in Liverpool and Benfica. Not only had the Portuguese giants reached this stage in impressive style, but in their previous twenty games in their domestic league they had dropped only two points and conceded four goals. For the first 45 minutes at Anfield, Benfica's defence showed how they had managed to concede so few goals at home as Liverpool struggled to create any chances at all. It was not until Kenny Dalglish, described later by one Portuguese journalist as 'the Messiah,' came on as a substitute after half-time, following a nine week injury break, that Liverpool looked likely to pierce the Benfica rearguard and on 66 minutes Rush headed home from a Kennedy cross. That, however, was the only goal of the night which left the tie still very much in the balance. Much was expected of Benfica in front of 75,000 spectators in the Stadium of Light, but Liverpool soon extended their lead when Whelan headed home a 9th minute corner. When Dalglish found Johnson on the edge of the Benfica penalty area and the Liverpool forward drove the ball into the net on 35 minutes, the tie was effectively over. Nene did pull a goal back for Benfica with 15 minutes remaining, but further scoring from Rush and Whelan gave Liverpool an extremely impressive 4-1 win which sent them through 5-1 on aggregate and sent a warning to all the other teams left in the competition.

In Rome, Dynamo Berlin were hit by a 23 minute blitz which saw Roma score three goals and effectively seal their place in the last four. On 67 minutes Graziani's cracking left foot shot opened the scoring and soon afterwards Pruzzo doubled the lead. In the closing moments of the game a Graziani miskick fell fortunately for Cerezo who finished powerfully to make it 3-0. Despite losing the second game 2-1, Roma were always in control of the tie from then on.

Rapid Vienna went behind in the first leg at home to Dundee United when Stark scored with a 20 yard drive, but the Austrians equalised through Hagmayr on 76 minutes and a late Kranjcar goal gave Rapid a first leg lead. In Scotland, Dodds hit home a Gough free-kick after just ten minutes and, despite many Austrian attacks led by their forwards Panenka and Krankl, Rapid were unable to strike back and it was Dundee United who made it through to the semi-finals.

The Eastern European clash between Dinamo Minsk and Dinamo Bucharest looked to be going Minsks way when Gurinovich scored early on in the first leg played in Tbilisi. But an equaliser from Rednik just two minutes from time put the Romanians in pole position. In the return, Augustin put the Bucharest side ahead after 10 minutes and the home team managed to hang on to their lead to go through 2-1 on aggregate.

The semi-final draw kept Liverpool and Roma, the two favourites, apart. Little Dundee United were given virtually no chance against the Brazilian and Italian superstars that Roma had at their disposal. In United's small 21,000 capacity Tannadice Park Stadium, however, the Scottish champions ran their more illustrious opponents ragged. After waves of Dundee United attacks, Dodds finally broke through the Roma defence three minutes after half-time, and a 30 yard drive from Stark made it 2-0 after 70 minutes. The rest of the game saw end to end action which could have seen either team score, but there were no further goals and Dundee United, incredibly, seemed poised to play in a European Cup Final for the first time. United manager Jim McLean proclaimed that: 'I am convinced now that we will give the Italians a run for their money and perhaps even score over there.' The Italians had been so taken aback by the way that their opponents had attacked them that there were even accusations that the Scots had been taking illegal stimulants, but Roma manager Nils Liedholm still appeared confident saying: 'we will be a different team at home and to be honest we are not that disturbed. Certainly we will not allow United's tactics to upset us as they did in Dundee.' The return match in Rome was an entirely different affair. The passionate Roma fans provided an aggressive and intimidating background to a game which was dominated by the home side. The inexperienced Dundee United players froze in the face of the intense atmosphere and a determined Roma side. The writing was on the wall early on when Conti beat McAlpine in the United goal only to have it disallowed for an earlier foul. This only postponed the Italian breakthrough, however, and after just 10 minutes Pruzzo headed home a Conti corner to turn up the noise in the Olympic Stadium even more. The aggregate score was evened up before half-time as Pruzzo held off the challenge of Gough to squeeze the ball home. It was now only a matter of time before Roma won the game as the Scottish players retreated further and further back, offering little in attack. Just before the hour mark, Roma scored their third goal. A Cerezo cross found Pruzzo in the penalty area and as he tried to go around goalkeeper McAlpine he was brought down. Di Bartolomei scored from the resulting corner and there was little doubt that Roma would win after that. There was great bitterness in the aftermath of the game as Italian players accosted and insulted manager Jim McLean and his assistant, while allegations were made concerning attempts by the Roma president to bribe the referee. Their remarkable comeback, however, meant that Roma had succeeded in reaching the final in their own stadium where they would meet the most successful European team of modern times.

A spiteful game between Liverpool and Dinamo Bucharest at Anfield produced only one goal - a cross from a free-kick headed home by Lee - , four bookings and a Romanian jaw allegedly broken by a Souness punch. The second leg in Bucharest was scarcely less brutal with another flurry of fouls and yellow cards, but amidst it all Liverpool turned in yet another professional European performance. They extended their lead in the tie after 20 minutes when a headed clearance from a corner fell to Souness who volleyed the ball through to Rush and he turned his defender before shooting low into the net for his 100th Liverpool goal. Dinamo then threw men forward as they had to and put the Liverpool defence under concerted pressure. They received their reward just five minutes before half-time when Orac curled a free-kick into the net . Dinamo's pressure concerted on either side of the interval, but Liverpool's defence held firm. With six minutes remaining Rush struck again to put the tie beyond the Romanians and book a place in the Final for Liverpool yet again. Manager Joe Fagan was overjoyed: 'Dinamo met us on a day when everyone in the Liverpool side was on top song. It was quite a remarkable performance. The players did not seem to have any nerves. We don't mind playing Roma on their own pitch in the final. Our chaps grow bigger when the atmosphere is there.'

The task facing Liverpool was immense. It would have been hard enough facing a team with a defence so strong that they had not conceded a single goal at home during their European Cup campaign. But Roma also had the languid Cerezo and the brilliant Falcao from Brazil, the intelligent Di Bartolomei and Graziani, the pace and skills on the wing of Conti and the lethal goalscoring of Pruzzo. On top of that Liverpool had to contend with the overwhelming advantage that Roma had in playing in front of their own fervent supporters. Liverpool's team showed many changes from that which had won the European Cup by beating Real Madrid three years earlier. The likes of Clemence, Thompson, McDermott and Ray Kennedy had gone, to be replaced by eccentric Zimbabwean goalkeeper Bruce Grobbelaar, the ball playing defender Mark Lawrenson, all action Australian midfielder Craig Johnston and, of course, top goalscorer Ian Rush.

The atmosphere as the two teams took to the field in the 1984 European Cup final was as loud and hostile as expected, but Liverpool started the game in a manner which suggested that their many victories in intimidating foreign stadiums had made them immune to such an environment. The start of the game saw Liverpool keeping the ball as they attempted to deny Roma any momentum and so quieten the crowd. After 15 minutes, the English champions took the lead, although the goal was anything but a thing of beauty. Johnston sent a high cross into the Roma penalty area where the goalkeeper Tancredi, under pressure from Whelan, dropped the ball. After a desperate scramble the ball reached the onrushing Neal via the head of the prostrate goalkeeper, and he slid the ball into the net. Souness was denied soon afterwards when his goal was ruled offside, but it emphasised how much in control Liverpool were at that stage. Slowly, however, Roma got themselves back into the game with Graziani and Conti getting much joy down the wings. As half-time approached, Roma drew level. It was Conti who crossed the ball and Pruzzo who glanced the ball past the helpless Grobbelaar into the goal.

Roma tried to build on their equaliser and they were particularly dominant in the 20 minutes after the interval, but they could find no way past Souness and the Liverpool defence behind him and with an average age of over 28, they gradually began to tire. They also lost Pruzzo after an hour with a stomach upset. So after a goalless second half and a further period of extra-time, the European Cup Final, for the first time, was to be decided by a penalty shootout.

The Rome crowd went wild when Steve Nicol missed Liverpool's first penalty, but after Di Bartolomei and Neal had made it 1-1, Conti blazed over to even things up. Souness, Righetti and Rush were all successful before Graziani stepped up to take his spot kick. What happened next has gone down into European Cup folklore. As Grobbelaar walked towards his goal his legs wobbled and his knees knocked as he attempted to distract the Italian as he prepared to take his penalty. Whether Grobbelaar's antics put Graziani off will never be known but the Italian missed his kick and allowed Alan Kennedy, who had scored the winning goal three years earlier against Real Madrid, to score the penalty that won a fourth European Cup for Liverpool.

This was surely Liverpool's greatest ever European Cup win and a performance that would rank alongside any produced in nearly 30 years of European Cup Finals. The odds had been stacked against them, but they had overcome all the factors that had been weighed against them to their fourth European Cup in eight years. Their performance had been exemplified by Graeme Souness who had consistently won the ball and protected his defence before finding a colleague with his next touch. The headlines, however, were made by Grobbelaar whose eccentric behaviour in the penalty shootout had made such an impact.