Home European cup final tickets | History | Gallery | Contact
GALLERY '70 / 1970 Decade / 1977 European cup final tickets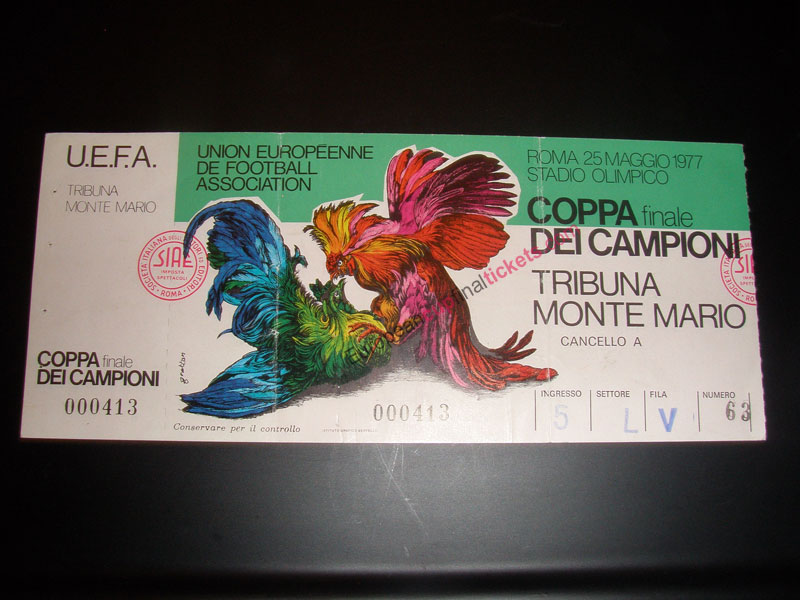 1977 European Cup Final (Rome)
Liverpool 3 Borussia Moenchengladbach 1
Liverpool: Clemence, Neal, Smith, Hughes (capt), Jones, Case, McDermott, R.Kennedy, Keegan, Heighway, Callaghan
Scorers: McDermott, Smith, Neal
Borussia Moenchengladbach: Kneib, Vogts (capt), Wittkamp, Schaffer, Klinkhammer, Bonhof, Wohlers (Hannes), Wimmer (Kulik), Stielike, Simonsen, Heynckes
Scorer: Simonsen


Up until 1976, English teams had achieved some great results in the European Cup, but had only managed to win the trophy once, when Manchester United triumphed at Wembley in 1968. The Fairs/UEFA Cup had been won on 5 consecutive occasions between 1968 and 1972 and the Cup-Winners Cup had gone to England four times, but in the European Cup the performance of English sides did not match up to that of their Spanish, Portugese, Italian, Dutch and German counterparts. That, however, was about to change. Liverpool were beginning to establish a reputation for themselves both at home and abroad. They had just won their domestic championship and had knocked out the likes of Dynamo Dresden, Barcelona and Bruges on the way to winning the UEFA Cup trophy that they had previously won in 1973. Liverpool had been built by Bill Shankly who guided the club from second division obscurity to league championship and European glory during his 15 years in charge. In July 1974, having just won the F.A.Cup - his ninth trophy at Anfield - Shankly rocked the football world by announcing his retirement. The managers job was then handed to his assistant Bob Paisley. Remarkably, Paisley would build on Shankly's legacy to such an extent that his achievements would eventually dwarf those of his predecessor.

Liverpool began their 1976-77 European Cup campaign with a comfortable 7-0 aggregate win over Crusaders of Belfast, and followed that up by coming back from a 1-0 first leg deficit to blitz Trabzonspor with three goals in the first twenty minutes back on Merseyside and book their place in the quarter-final. There they would be joined by plenty of big names. Bayern, attempting to become only the second team ever to win four European titles in a row, scored a total of fourteen goals in defeating Koge BK of Denmark and the Czechs of Banik Ostrava. St Etienne, by contrast, had scored only twice as they achieved 1-0 victories over CSKA Sofia and, in a repeat of their semi-final of the previous season, had beaten PSV Eindhoven 1-0 once again. Dynamo Kiev were also looking strong after easing past Partizan Belgrade and PAOK Salonika. One big name not to be found in the last eight, however, was Real Madrid who, having been forced to play their home leg against Bruges in Malaga following the trouble at their game against Bayern a year earlier, could only take a goalless draw to Belgium where they were beaten 2-0.

Another fancied team to fail in their attempt to reach the quarter-final was Torino. The Italian champions were drawn against Borussia Moenchengladbach who had just won the German Bundesliga for the second year in a row. With the experience of Berti Vogts and Jupp Heynckes, the skills of Rainer Bonhof and Uli Stielike, and the forward threat of Allan Simonsen, Borussia had outperformed Bayern Munich on the domestic front for two years, now they were ready to do the same in Europe. A 2-1 win in Turin certainly set the Germans on their way, but their eventual victory was marred by the events of the second leg. In an ugly game, the Italian sweeper Caporale was sent off just before half-time following a foul on Simonsen. On 68 minutes midfielder Zacarelli received his marching orders after fouling Bonhof, and moments later they were joined in the dressing room by their goalkeeper who brought Del Haye down outside the penalty area. Although they were unable to score against seven outfield players and a stand-in goalkeeper during the final 20 minutes of the game, Borussia nevertheless proceeded into the last eight.

Borussia would be fully tested in the quarter-finals where they took on Bruges, conquerors of Real Madrid. After 40 minutes of the first leg in Germany it appeared that the Belgians, coached by former Feyenoord boss Ernst Happel, were on the verge of claiming another notable scalp as they led 2-0, but a Kulik goal just before half-time and a second half equaliser from Simonsen clawed Borussia back into the tie, although with two away goals, Bruges were still favourites to progress through. In the end, Bruges were just eight minutes away from the semi-finals as, with the second leg still goalless they looked set to go through, but a late goal from 19 year old substitute Wilfried Hannes was enough to see Borussia into the semi-finals. They would, however, be the only German team there as Bayern were beaten for the first time in four years. It was Dynamo Kiev, finally showing the kind of form that they had promised for years, who finally got the better of the reigning champions. Bayern were well placed, after the first leg, despite being without the injured Muller as they managed a 1-0 home win courtesy of a goal from Muller's understudy Rainer Kunkel. Despite freezing temperatures and a hostile crowd of 100,000, Bayern entered the final ten minutes with the second leg goalless with Maier having saved a Blokhin penalty, but a second penalty award changed the course of the tie. First a disputed Buriak penalty and then a scrappy goal from substitute Slobodian ended Bayern's hopes of a fourth successive win and ensured a brand new name on the trophy.

Despite having the better of the first leg, Liverpool took on the previous years finalists St Etienne trailing to a Bathenay goal, but within two minutes at Anfield they were on level terms as Kevin Keegan beat Jurkovic with a right footed in swinging shot that sailed over the goalkeepers head and into the net. The tie swung back into St Etienne's favour when Bathenay scored with a curling shot from 35 yards out, but Liverpool stormed back at the French champions and, roared on by a vociferous home crowd, scored through Ray Kennedy after 58 minutes and then, on 84 minutes, David Fairclough chested down a through pass from Kennedy , held off a challenge from Lopez and shot low to Jurkovic's right. Liverpool were through to the semi-finals where they would play FC Zurich. The Swiss champions had progressed to the quarter-finals thanks, in the main, to the goalscoring exploits of their top striker Franco Cucinotta who had scored in three of their four games. Dynamo Dresden stood between Zurich and the last four, but goals in each leg from Cucinotta helped his side to a 4-4 aggregate score which was enough to send them through on away goals.

After their heroics against St Etienne, Liverpool's semi-final against FC Zurich was something of an anti-climax. The only time that the Swiss side threatened to reach the Final was when they were awarded a dubious looking penalty after just 6 minutes in Zurich which Peter Risi scored. But from then on, Liverpool took over and managed to make their opponents look second rate. Two goals from full-back Phil Neal and another from winger Steve Heighway virtually ended the tie with the second leg in England still to come. When they did meet again, Liverpool put three goals past Zurich again through a Jimmy Case double and one from Keegan to ease them through to the Final in Rome. Despite Dynamo Kiev's growing reputation and their form in reaching the semi-finals, they would go no further as Borussia Moenchengladbach ensured that there would be a German side in the final for the fourth year running. The Ukrainians were in the driving seat after a 1-0 win in Kiev and, having conceded only one goal in the competition so far, were confident of progressing. But Dynamo had also scored in only one of their three away games so far, and they were unable to add to that total in Germany as they were beaten by a first half Bonhof penalty and a goal from Wittkamp eight minutes from time.

Liverpool were now on the verge of a unique English treble. Having already won the league championship they were to meet Manchester United in the F.A.Cup Final four days before the European Cup Final in Rome. In winning their second successive championship, Liverpool were beginning an era of domination in England that would last until the early 1990's. This side was not built around one or two star players as many of the top European teams had been in the past, but was constructed very much around a team ethic. Ahead of England goalkeeper were defenders like Phil Neal and Emlyn Hughes and midfielders Terry McDermott and Ray Kennedy who would work tirelessly for their teammates. If they had stars they had been their forward pairing of John Toshack and Kevin Keegan, but Toshack had been hit by injury and would not feature in the final, while Keegan had already agreed to leave Liverpool at the end of the season and would eventually join Hamburg the following summer.

Unfortunately for them, Liverpool they arrived in Rome with their treble dreams in tatters having been beaten 2-1 at Wembley. Borussia, on the other hand, had retained their league title and, having looked so impressive in the earlier rounds, were most peoples favourites for the final.

Liverpool set out to combat Borussia by effectively making the pitch smaller. Whenever the Germans had the ball at the back, Liverpool would simply drop back and invite their opponents to break them down. If Liverpool lost the ball, they would retreat back and work feverishly to win it back. Keegan, up front alongside Steve Heighway, worked hard to keep Vogts busy, constantly pulling him out of position and creating openings for others. With Liverpool playing the ball from the back and concentrating on keeping possession, they dominated the early stages of the game, although Borussia had the best chance when Bonhof broke away and hit Clemence's post. As the first half hour approached, however, Liverpool got the goal they deserved as McDermott finished a forty yard run by receiving a pass from Heighway and slotted it past Kneib in the Borussia goal to make it 1-0.

Liverpool continued to dominate the game, but their good work was undone on 51 minutes when a stray back pass let in Simonsen who equalised for the Germans. Suddenly Borussia were back in with a chance and only a brave dive by Clemence at the feet of Stielike stopped them from taking the lead. But then, after 65 minutes, Liverpool won a corner and Heighway's cross was met at the near post by the veteran defender Tommy Smith, survivor of the 1965 semi-final against Internazionale, whose header powered the ball into the net. Borussia still had time to force a brilliant save from Clemence at the feet of Heynckes, but the match was settled in the dying moments when Vogts, who had been vainly chasing Keegan all night, brought down the England forward in the penalty area and Phil Neal stepped up to convert the penalty and win the European Cup for Liverpool for the first time.

After the game Bob Paisley said: 'We were trying to pace the game. We were punished for our first mistake, but all credit to the boys for coming back. It was hard, our 17th game in six weeks.' His Borussia counterpart Udo Lattek commented: 'We made too many mistakes. We were better in the second half but we had missed our chance by then.'

Liverpool had been the better team on the night and had well deserved their European triumph. Their victory was celebrated into the Roman night by their 25,000 supporters who had travelled to the match. But with Keegan on his way and the likes of Smith, Callaghan and Heighway coming to the end of their careers, it seemed that it may be a glorious end for a great team rather than the beginning of a dominant era. Certainly, few could have envisaged that for the next few years, English teams, and Liverpool in particular, would dominate the European Cup in a manner not seen since Real Madrid twenty years earlier.