Home European cup final tickets | History | Gallery | Contact
GALLERY '70 / 1970 Decade / 1976 European cup final tickets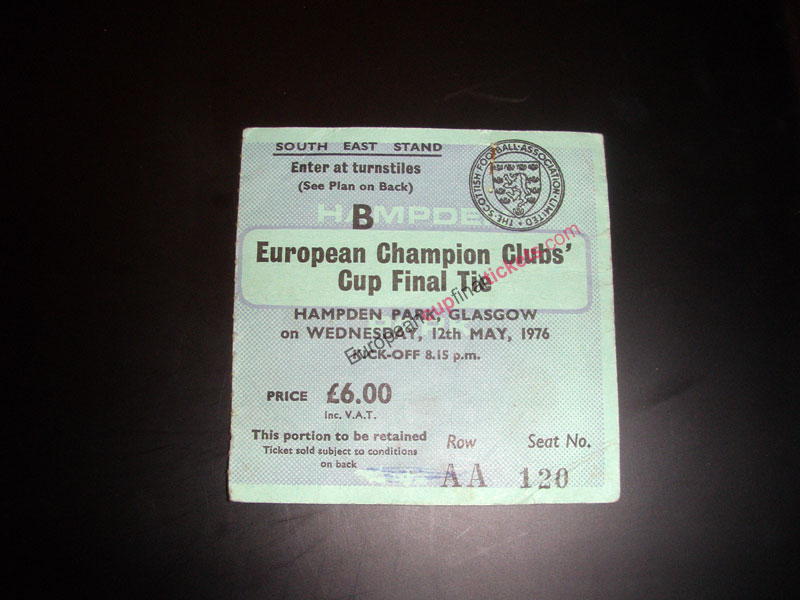 1976 European Cup Final (Glasgow)
Bayern Munich 1 St Etienne 0
Bayern Munich: Maier, Durnberger, Schwarzenbeck, Beckenbauer (capt), Hansen, Zobel, Roth, Kapellmann, Torstensson, Muller, Hoeness
Scorer: Roth
St Etienne: Curkovic, Janvion, Piazza, Lopez, Repellini, Bathenay, Larque (capt), Santini, H.Revelli, P.Revelli, Paramagnet (Rocheteau)



Bayern made a comfortable start to their attempt to win a third successive European title. Up against Jeunesse Esch of Luxembourg, they won the away leg 5-0 and completed an 8-1 aggregate win in Munich. Their German compatriots - German champions and UEFA Cup holders Borussia Moenchengladbach - also had a big win, but it was achieved with much less ease. Up against the Austrians of Innsbruck, they needed a penalty seven minutes from time to rescue a 1-1 draw at home, and then found themselves a goal behind in Austria as half-time approached. The tie turned, however, when Uli Stielike equalised for Borussia with just a minute remaining before the interval. In the second half Jupp Heynckes scored four times as the German champions ran out 6-1 winners on the night.

In the second round, Bayern had to come from a goal behind after their first game in Malmo and only went through to the quarter-finals after two second half goals, the second of which was a hotly disputed Torstensson penalty that had Malmo making allegations of gifts to the match officials. Borussia had a much harder task as the draw put them in one of the two headline ties of the round. Up against Juventus, the Germans won 2-0 in Germany thanks to their Danish star Alan Simonsen and yet another Heynckes goal. In Turin, Juventus were level on aggregate just after the hour, but Danner and Simonsen struck late on to see a second German team safely through.

The second big match of the round between Derby County and Real Madrid was mired in controversy. In the first game, Derby were awarded two penalties and Real were denied a goal when the same Russian linesman who officiated at the 1966 World Cup Final flagged for offside. Derby thumped an injury hit Real 4-1 with Charlie George scoring a hat-trick, but it was the performance of the officials that most troubled the Madrid players. Gunter Netzer complained: 'We cannot win this match now and that is because of some terrible refereeing decisions.' While Paul Breitner said: 'I don't like to speak in bad ways about players or referees, but this referee through his poor decisions has taken away a whole years hard work by our club. Our disallowed goal could not have been offside. Now I know how Leeds felt in Paris when a referees decision cost them the final.'

With a three goal lead from the first leg, Derby were happy to defend in Madrid, but their cautious tactics played into the hands of their opponents. Real scored after just three minutes as Martinez glanced home a header. Despite incessant pressure, the Spaniards could not find the net again before half-time, but in ten devastating minutes after the break they drew level on aggregate through Martinez and Santillana. Derby were then forced onto the attack and they were rewarded when George slipped past three tackles and hit a 25 yard shot that curved and dipped before going into the net off the crossbar. As the game entered its closing stages, Real were on their way out, but with just six minutes to go, Amancio went down in the penalty area and Pirri scored from the spot. In extra-time the tie was won by a brilliant goal from Santillana on the counter-attack and a famous comeback was complete with a 5-1 victory on the night. Afterwards, Dave Mackay the Derby manager was gracious in defeat saying: 'Real played like world champions. They were superb. They played us off the park just as we did against them at Derby.' But he added: 'We were cheated by that penalty six minutes from victory. The referees are mostly so bad that you will always be cheated in Europe. Real were cheated at Derby, but the blow came for us so close to the finish.' Real boss Miljan Miljanic said: 'It was certainly not a penalty, but that unfortunately is football.'

So Moenchengladbach and Real won through in the two big ties of the second round, and they would meet in the Quarter-Finals. The German champions looked to be on their way to the semi-finals when they took a two goal lead within the first half hour in Dusseldorf, but, with Netzer proving influential as he took on his former team, Real came back. First Martinez headed a crucial goal on the stroke of half-time, and then a 25 yard Pirri strike on the hour made it 2-2 and put Real in the driving seat. But when a Heynckes header put Borussia one up in the first half in Spain, the balance of power swung again before Santillana headed home an Amancio cross after 50 minutes that, despite two late disallowed Borussia goals, saw Real through to the last four on away goals.

Bayern eased through with a 5-1 thrashing of Benfica after drawing 0-0 in Lisbon, but the remaining two ties were much closer. PSV Eindhoven came back from a 2-0 first leg deficit to beat Hadjuk Split 3-2 on aggregate, and St Etienne did exactly the same to Dynamo Kiev. The latter result was particularly significant as the Dynamo Kiev team was virtually the same as the national Russian side, and they were the holders of both the Cup-Winners Cup and the European Super Cup. Led by 1975 European Footballer of the Year Oleg Blokhin, the Soviet champions looked to be in complete control of the tie after the first leg with goals from Konkov and Blokhin himself. But under the eye of young manager Roby Herbin, St Etienne were becoming a team to be respected throughout Europe having reached the European Cup semi-finals twelve months earlier. Their star player was 21 year old Dominique Rocheteau, an outside right of skill and pace. In attack were the brothers Patrick and Herve Revelli, the midfield creator was Jean Michel Larque, while the Argentinian Oswald Piazza was the destroyer at the heart of the defence. This thrilling French side were not to be denied and second half goals from Herve Revelli and Larque, followed by an extra-time goal by Rocheteau completed an amazing and unexpected comeback.

In their semi-final against PSV Eindhoven, St Etienne took an early lead in France through a Larque free-kick, but rarely threatened their opponents after that and with PSV controlling much of the remainder of the game, the Dutchmen were widely rated as favourites to progress as they returned home with just a 1-0 deficit. In the return match, PSV pinned St Etienne into their own half for virtually the whole 90 minutes, but with Curkovic inspired in goal, they could not break through and it was St Etienne who became the first French team to reach the European Cup Final since Stade de Reims 17 years earlier.

The other semi-final brought together the two biggest names remaining in the competition. The first leg in Madrid between Real and Bayern drew an estimated television audience of 200 million as the most successful club in European Cup history came up against the side going for a third consecutive year as European champions. Driven on by a fiercely partisan crowd, Real, who were without the injured Breitner and captain Pirri, attacked Bayern from the start and were rewarded after just eight minutes. Left back Camacho sent a long pass out to Martinez on the left wing, and when Beckenbauer failed to clear, Martinez beat Sepp Maier in the Bayern goal from the edge of the area. Having taken the lead, Real continued to pressure the Bayern defence, but they were hit on the break just before half-time as a Hoeness pass found Muller clear on goal and 'Der Bomber' finished with his usual accuracy. Despite their best efforts, Real were unable to break through in the second half and had to settle for a 1-1 draw to take to Munich. At the end of the game there were ugly scenes as home supporters attempted to assault the Austrian referee Linemayr and punched Gerd Muller to the ground as he tried to protect the official. Fortunately, no-one was seriously hurt.

With the Bayern players on £5,000 each to reach the final, they had little trouble in getting past Real in Munich. Two first half goals from Gerd Muller - taking his European Cup goalscoring tally to 50 - were enough to see them through to their third final in a row. Real, with Netzer particularly prominent in midfield, kept going until the end, but when Amancio was sent off in the last minute for kicking the ball away, they knew that their chance had gone.

In the 1974 final, Bayern had been just moments away from losing to Atletico Madrid when they managed to find a late goal from an unexpected source. A year later against Leeds they benefited from a number of dubious refereeing decisions as they ran out 2-0 winners. The 1976 final at Hampden Park would also see Bayern receive a fair helping of luck on the way to yet another European Cup win, starting with the injury to Rocheteau that kept the French star on the bench and able only to play for the last eight minutes of the game. With around 30,000 of the 55,000 crowd having made the trip from France, St Etienne were well supported and came ever so close to taking the lead after 35 minutes when Dominique Bathenay saw a 20 yard left foot shot beat the despairing Maier and cannon back off the crossbar. The rebound fell to Revelli, but his header only found the goalkeepers arms. Five minutes later Santini crashed his header against the same crossbar to give St Etienne the feeling that it might not be their night. To be fair, Bayern had chances also, notably a harshly disallowed goal early on in the game which appeared to have been incorrectly ruled offside, and when the St Etienne goalkeeper parried a shot from a young Karl-Heinz Rummenigge and dived backwards to claw the ball away before Muller pounced. In the end, the game was settled by a single goal. On 57 minutes, Bayern won a free-kick some 25 yards out after a push on Muller by Piazza, and the resulting shot from Roth flew into the corner of the net to give the Germans the lead. Needing a goal, the French side eventually threw Rocheteau on after 82 minutes and even in that limited time he was able to carve out two chances that almost brought St Etienne level, but in the end it was Bayern's cup once more.

It was not a win for football romantics, but Bayern had showed yet again that they were extremely difficult to beat. Many of the top sides in Europe over the course of three years had tried to get past them, but none had managed to get the better of the Germans. With Germany's World Cup victory in 1974 and Bayern's achievement in equalling Ajax's three consecutive European crowns, the likes of Maier, Beckenbauer and Muller had now dominated world and European football for three years and it was going to take something special to stop them. Although they had received their share of luck in the three finals, they had earned the right to win all their European titles and were now more than worthy of a place amongst the great teams in European Cup history.