Home European cup final tickets | History | Gallery | Contact
GALLERY '70 / 1970 Decade / 1974 European cup final tickets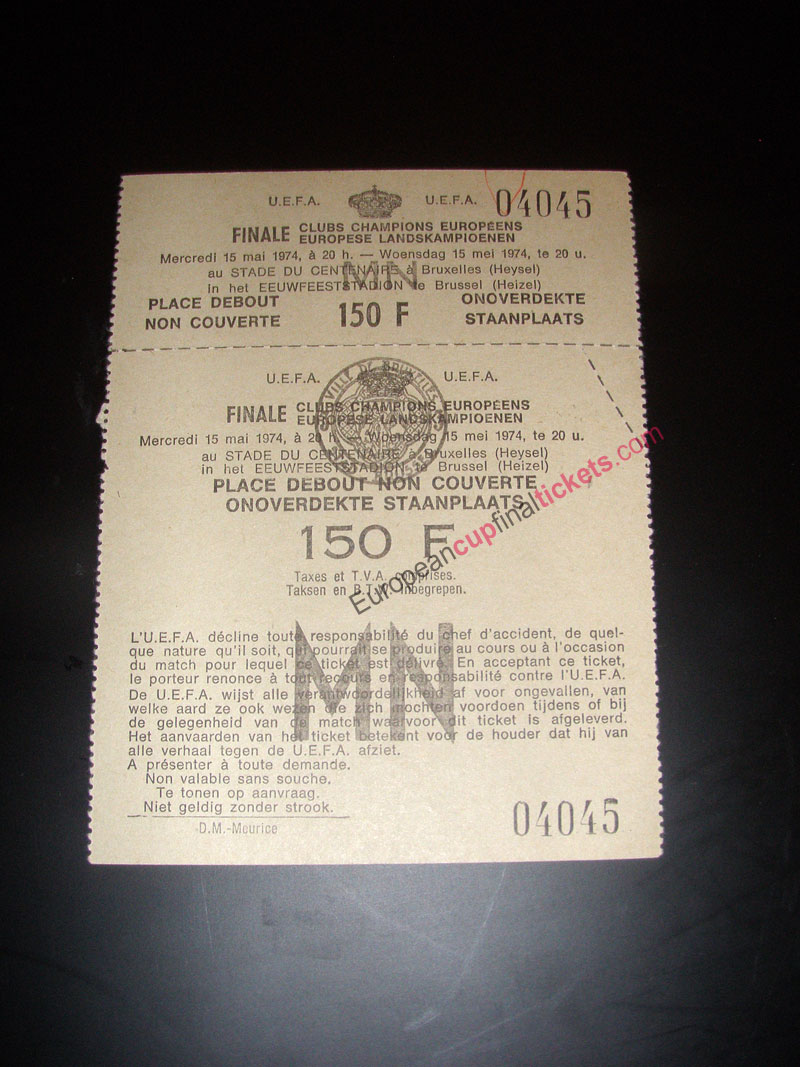 1974 European Cup Final (Brussels)
Bayern Munich 1 Atletico Madrid 1
Bayern Munich: Maier, Hansen, Schwarzenbeck, Beckenbauer (capt), Breitner, Zobel, Roth, Kapellmann, Torstensson (Durnberger), Muller, Hoeness
Scorer: Schwarzenbeck
Atletico Madrid: Reina, Melo, Adelardo (capt), Heredia, Capon, Bejarano, Eusebio, Luis, Irureta, Garate, Ufarte (Becerra), Salcedo (Alberto)
Scorer: Luis

Replay (Brussels)
Bayern Munich 4 Atletico Madrid 0
Bayern Munich: Maier, Hansen, Schwarzenbeck, Beckenbauer (capt), Breitner, Zobel, Roth, Kapellmann, Torstensson, Muller, Hoeness
Scorers: Hoeness 2, Muller 2
Atletico Madrid: Reina, Melo, Adelardo (capt)(Benegas), Heredia, Capon, Bejarano, Eusebio, Luis, Becerra, Alberto (Ufarte), Garate, Salcedo


After their third successive European Cup win, Ajax had looked invincible and had seemed poised to challenge Real Madrid's record of five wins in a row. But the summer of 1973 saw Johan Cruyff, their most influential player, leave to join his old manager Rinus Michels at Barcelona, and begin the break up and decline of one of the greatest club teams the world has ever seen. The impact on Ajax's European results was immediate. Having received a bye in the first round, they were drawn against CSKA Sofia. The holders could only take a one goal lead to Bulgaria, and that was cancelled out by a Marahliev goal on 69 minutes in the second leg. The game then went into extra-time where a Zhekov goal with only five minutes remaining saw CSKA become the first team to knock Ajax out of Europe for more than three years. And so the Ajax era was over.

Ten years earlier, Bayern Munich had been languishing in West Germany's second division. But now, they were on their way to a third consecutive German championship and possessed some of the biggest names in European football. Their transition had begun under Yugoslav born coach Tschik Cajkovski. It was he who recognised the potential of young players such as Franz Beckenbauer, Sepp Maier and Gerd Muller, and he soon guided a Bayern team that had an average age of just 21 into the Bundesliga. In 1967, they had their first taste of European glory when they won the Cup-Winners Cup, and they got as far as the semi-finals the following year, only to be beaten by AC Milan. One year later, Bayern were German champions. In 1970 Udo Lattek took over as coach and moved Bayern forward even moer. In 1972, now playing in the brand new Olympic Stadium, they won the Bundesliga with Muller scoring 30 league goals, and a year later they retained their title. Maier was now one of the most recognised goalkeepers in the world, Muller one of the most feared strikers, and Beckenbauer was regarded as one of the most complete footballers in history. 'Der Kaiser' as he was known, had changed the role of the sweeper from a purely defensive one, providing insurance behind a back four, to being the instigator of attacks, bringing the ball forward from defence and setting up or even scoring goals. Now with the likes of Paul Breitner and Georg Schwarzenbeck in defence and Uli Hoeness in midfield added to the team, Bayerns sights were firmly set on the European Cup.

The West German champions made an unconvincing start to the 1973/74 tournament. Having beaten the Swedes of Atvidaberg 3-1 in Munich, they were 3-0 down in Sweden, with two goals coming from Conny Torstensson, before they were rescued by a Hoeness goal after 75 minutes, and only progressed thanks to a 4-3 win on penalties. So impressed were they by Torstensson in the Atvidaberg attack, that they signed him soon afterwards. Bayern then took part in a dramatic tie with their East German rivals Dynamo Dresden. At half-time in the first leg in Munich, Dynamo were 3-2 ahead. Second half goals from Roth and Muller gave Bayern a slim first leg lead, but there was more drama to come in the return. After twelve minutes in Dresden, the tie appeared over as two Uli Hoeness goals gave Bayern a 6-3 aggregate lead, but then three goals for Dynamo between the 42nd and 56th minutes saw the home side ahead on away goals. But not for the last time, Gerd Muller came to his teams rescue as his goal on the hour saw his team through to the quarter-finals with a 7-6 aggregate win.

In round one, Dynamo had knocked out the previous seasons finalists Juventus, just one of a number of wins by Eastern European sides over more illustrious opponents. As well as CSKA Sofia's shock win over Ajax, Ujpest Dozsa of Hungary had knocked out Benfica and Red Star Belgrade had defeated Liverpool as the teams from behind the Iron Curtain flexed their muscles. Two of those sides met in the quarter-finals as Ujpest took on Spartak Trnava, appearing in the last eight for the second year in a row. After two 1-1 draws, the sides could only be separated by a penalty shootout which the Hungarians won 4-3. The other two remaining eastern bloc teams went out at the same stage. CSKA Sofia were unable to repeat their heroics against Ajax when they came up against Bayern. A 4-1 win for the Germans in Munich, courtesy of two goals from Torstensson and one each from Beckenbauer and Muller, was too much for CSKA to pull back, especially when Breitner netted early on in the second leg, and although the Bulgarians managed to win the game 2-1, they were on their way out, along with Red Star who lost 2-0 at home to Atletico Madrid before a goalless draw in Spain.

The fourth semi-final spot would go to the winners of the tie between FC Basel and Celtic. An entertaining first leg game in Switzerland ended with Basel taking a 3-2 lead to Glasgow where there was to be even more excitement. Celtic attacked from the start but received a setback after only five minutes when George Connelly was carried off with a broken ankle. By the time ten minutes had been played, the Scots had also seen two goals disallowed, for a foul and offside respectively. So when Kenny Dalglish headed home a corner on twelve minutes, there was great relief amongst the 71,000 spectators in Celtic Park. When a Deans shot made it 2-0 just three minutes later, Celtic appeared to be on the verge of another semi-final appearance. But Basel were not beaten yet. After 33 minutes, a spectacular header from Mundschin brought them back into the game, and in first half injury time Balmer tapped in an equaliser after the Celtic goalkeeper had failed to hold a shot from Rahman. The second half saw Celtic on all out attack as they created chance after chance, but Basel were always dangerous on the counter attack and left the home crowd with their hearts in their mouths on more than one occasion. The Celtic pressure paid off just before the hour when Callaghan scored from a corner, but there were no more goals in 90 minutes and so the game went to extra-time. The winning goal came eight minutes into the extra period when Steve Murray headed a cross past substitute goalkeeper Kunz to seal a dramatic 6-5 aggregate win.

In the semi-finals, Celtic would find themselves up against Atletico Madrid. The Spanish champions were managed by Juan Carlos Lorenzo, a veteran of the 1966 Argentinian World Cup side that had been labelled 'animals' by England boss Alf Ramsey, and of the Estudiantes team that had become synonymous with brutal tactics in the late sixties. Under Lorenzo's stewardship, Atletico were capable of vicious and cynical play, and this was never more evident than in their first leg game at Celtic Park. Celtic were kicked off the park by opponents who were determined to use any means to disrupt the home sides rhythm. Turkish referee Dogan Babacan sent off Ayala, Diaz and Quique and booked another five Atletico players as he attempted to keep control of the blood bath that the game descended into. After the game there were more ugly scenes as the police had to step in to separate rival players. And yet the 0-0 scoreline was a success for the visitors and left them in a good position for the return match. Taking full advantage, Atletico won the second leg 2-0 thanks to late goals from Garate and Adelardo to reach their first European Cup Final.

Bayern Munich, meanwhile, were also reaching their first final. After a 1-1 draw in Hungary against Ujpest Dozsa, the Germans had a comfortable 3-0 win in the Olympic Stadium. This meant that, for the first time since 1961, the European Cup Final would be played between two teams who had never reached that stage before.

Bayern and Atletico met in Brussels' Heysel Stadium and played out a tight, nervous ninety minutes. Atletico, this time showing their more attractive side, had the better of the first half with their superior passing and movement. Bayern moved up a gear after the interval with Muller and Hoeness both having chances. But at the end of normal time there were still no goals, and as the 30 minutes of extra-time drew to a close, the scoresheet was still blank. Then, with little more than five minutes remaining, Luis Aragones curled a free-kick around the Bayern wall and past Maier to score the goal that looked to have won the European Cup for Atletico Madrid. But then, as the final seconds ticked away and the Spanish supporters celebrated their impending triumph, Georg Schwarzenbeck made one final, desperate attempt to rescue the game as he galloped forward from defence and unleashed a 35 yard shot. It appeared to be a routine save for Reina in the Atletico goal, but he was unsighted and let the ball past him and into the net for a truly dramatic equaliser. Two days later the teams returned to the same stadium, although this time the stands were only half full. The Spaniards were without their combative midfielder Irureta and it seemed that the first game had taken more out of them than their opponents. With Beckenbauer controlling the game, the pace and greater energy of the Germans was too much for Atletico and this time Bayern were dominant. Hoeness began and ended the scoring with goals in the 28th and 82nd minutes. In between Gerd Muller scored with a 56th minute volley and a 69th minute lob. At the final whistle, the only European Cup Final replay finished with Bayern as comfortable 4-0 winners and the trophy went to Germany for the first time.