Home European cup final tickets | History | Gallery | Contact
GALLERY '60 / 1960 Decade / 1967 European cup final tickets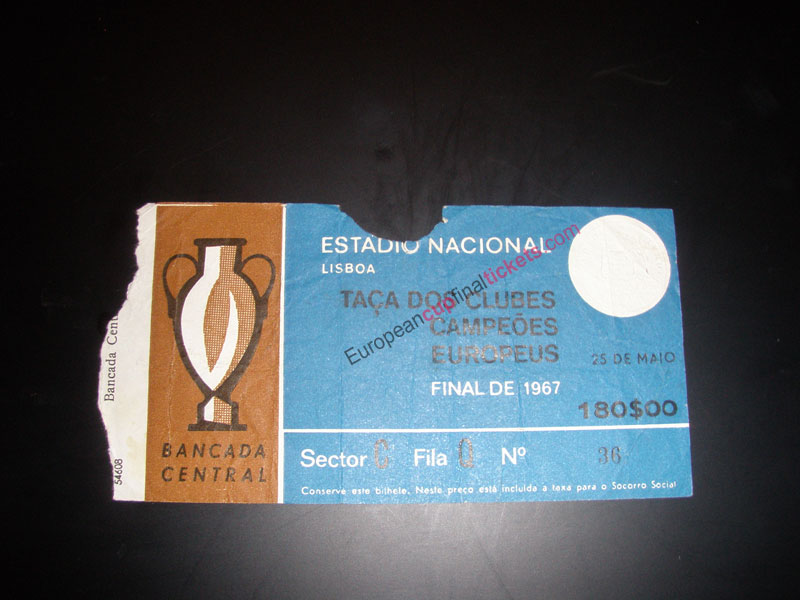 1967 European Cup Final (Lisbon)
Celtic Glasgow 2 vs. Internazionale Milan 1

Celtic: Simpson, Craig, McNeill (capt.), Clark, Gemmell, Murdoch, Auld, Johnstone, Wallace, Chalmers, Lennox
Scorers: Gemmell, Chalmers

Internazionale: Sarti, Burgnich, Guameri, Picchi (capt.), Facchetti, Bedin, Mazzola, Bicicli, Domenghini, Cappellini, Corso
Scorers: Mazzola (pen)

Scottish football has long been dominated by the 'Old Firm' of Glasgow giants Celtic and Rangers, but back in 1965, one half of this all conquering duo was suffering from a major trophy drought. Since 1926, Celtic had won only three championships – compared with Rangers twenty – and six cups, with Rangers winning fourteen in the same period. Neither trophy had been won for over a decade, and Celtic had been forced to look on as the likes of Aberdeen, Hearts, Dundee and Kilmarnock won championships that Celtic had rarely come close to.

All that was about to change, however, with the appointment of a new manager. Jock Stein was a former Celtic player, but had started his managerial career at Dunfermline Athletic. On his arrival at Dunfermline he had miraculously saved the club from relegation in his first season, before grabbing Celtic's attention by beating them in the Scottish Cup Final of 1961. Stein briefly moved on to Hibernian before being lured to his old club where he made an immediate impact. In his first season Stein led Celtic to their first championship in twelve years and would follow that up by winning the following eight Scottish titles to set a European record for consecutive league wins. In the same nine years, Celtic would win five Scottish Cups and five League Cups, thus transforming the Scottish league scene and completely turning around the fortunes of his club. But none of these achievements, as incredible as they were, would live in the memory of Celtic supporters as long as their achievements in the 1967 European Cup.

Scottish teams had already achieved some success in the European Cup with Hibernian, Rangers and Dundee all having reached the last four, but all had been well beaten in the semi-finals and none had seriously threatened to win the competition. Celtic were now to embark on a campaign that would take them further than any Scottish side had done before, but it was not to be without some difficulty along the way. Celtic began with a comfortable 5-0 aggregate win over FC Zurich – who's manager, Luis Kabala, made his final European Cup appearance in the second leg at the age of 39 - and a 6-2 victory over the Frenchmen of Nantes. The quarter-finals saw the Scots up against Vojvodina of Novi Sad who had qualified for the tournament after winning their first ever Yugoslav championship and who had reached this stage by beating Atletico Madrid after extra-time in a second round replay, despite having two men sent off. The first leg in Yugoslavia was decided by a mistake from Celtic's defender Tommy Gemmell whose poor back pass let Stanic in to score the only goal of the game. With leading Scottish goal scorer McBride out injured and his replacement Wallace unavailable, the second leg was always likely to be difficult for Celtic, and so it proved. Vojvodina certainly had chances to increase their lead in the opening moments of the second leg, but they were left to rue their missed opportunities when an error by Pantelic in goal allowed Chalmers to score with half an hour remaining. There was no further scoring until the final minute of the tie when Celtic won a corner from which their captain Billy McNeil rose to head the ball home and send his side into the semi-finals.

Britain's other representatives met with varying fortunes. The champions of Northern Ireland, Linfield, met with unexpected success as they knocked out Aris Bonnevoie and Valerengens on the way to the quarter-finals where they came up against the Bulgarian army team CSKA Sofia. After an exciting 2-2 draw in Belfast, Linfield were only beaten by a single goal in the return game as CSKA edged into the last four. English champions Liverpool had high hopes of success after reaching the semi-finals in their previous campaign just two years earlier, but in their first tie they struggled to get past the Romanians of Petrolul Ploesti. Seemingly comfortable after a 2-0 home win, Liverpool were beaten 3-1 in Romania and needed a replay in Brussels where they again won 2-0 to progress. In the second round they were drawn against Ajax of Amsterdam, a team that had previously had little success on the European stage, but were about to announce their arrival. Dutch teams had made little impact in the European Cup so far and, in their two previous campaigns, Ajax had only beaten one side, but against Liverpool they would put on two performances that would make the football world wake up and take notice. The first leg in Amsterdam, played in thick fog, saw the home side race into a 4-0 half-time lead. The fog was so thick that the scoreboard operator, situated on the halfway line, needed runners to let him know when a goal went in at either end. With Ajax adding a further goal in the second half and Liverpool only mustering a last minute consolation, the Dutchmen were virtually through to the quarter-finals after just one leg and Liverpool were left stunned. Before the second leg, Liverpool manager Bill Shankly predicted a 7-0 win for his side, but Liverpool were to fall far short of that as they were held to a 2-2 draw with both Ajax goals coming from a young man by the name of Johan Cruyff. Much more would be heard of both the player and his team in the years to come. Ajax's success prompted much celebration at home, with one Amsterdam headline proclaiming 'AJAX WINS 2-2,' but unfortunately for Ajax, they could not repeat their exploits in the next round against Dukla Prague. After a 1-1 draw in Amsterdam, Dukla won 2-1 in the second leg courtesy of a penalty and an own goal to progress to the semi-finals for the first time, but Ajax had certainly made their mark on the European Cup.

The previous three seasons had been dominated by Real Madrid and Internazionale with only Benfica having succeeded in beating either of them in that time, so they were understandably the two favourites to win the competition again. Inter had beaten Torpedo Moscow in typical fashion by one goal to nil – and an own goal at that – before defeating Vasas Budapest 2-1 at home and 2-0 away, courtesy of two brilliant Mazzola goals. Real received a bye in the first round as holders, but were given a fright in the second round. Having been beaten by the only goal by 1860 Munich in Germany, they went further behind when the Germans scored in the Bernabeu, but goals from Grosso, Veloso and Pirri saw the holders edge their way into the quarter-finals where the competition was opened up with the news that Real had been drawn to play Inter.

Just as in the final three years earlier, Real Madrid were defeated by Inter's catenaccio tactics. They could find no way past the door bolt in Milan and were defeated by a single goal from Cappellini who had only just returned to Inter following a spell on loan to Genoa. The second leg in the Bernabeu saw Real face the wrath of their 120,000 fans as they were comfortably despatched by the Italians. Their task was made almost impossible on 23 minutes when Real's goalkeeper failed to hold on to a shot from Domenghini and Cappellini was the first to react and score his second goal of the tie. Just before the hour, Suarez, who had brilliantly marshalled Inter's solid defence, beat three defenders on a solo run before scoring the goal that put the tie beyond doubt. This was all too much for the home supporters to take. One supporter hurled a live chicken at Gento after he missed an easy chance, while another fan ran onto the pitch brandishing a scarlet bullfighters cape. He proceeded to make several imaginary passes to show the Real players their way to goal. At the final whistle the Real players, several of them in tears, left the pitch to the sound of booing. Real's hopes of winning a seventh European title were finished, but Internazionale were safely into the semi-finals with their biggest threat knocked out.

Having reached the last four, Inter were hot favourites to reach the final, but they made hard work of overcoming CSKA Sofia. The Bulgarians played a defensive game that their opponents would have been proud of in the first leg at the San Siro where, despite having Rajkov sent off after just half an hour for punching Suarez, they managed to come away with a 1-1 draw. With the return game producing an identical score, the game went to a replay which CSKA were persuaded, thanks to a generous proportion of the gate money, to switch from Graz in Austria to the not so neutral venue of Bologna. There the Italians ground out a typical 1-0 win thanks to yet another Cappellini goal to finally knock the Bulgarians out and send Inter into yet another final. In Lisbon, the Italians would be the first side ever to face a British team in a European Cup Final following Celtic's semi-final defeat of Dukla Prague. Celtic did the hard work in the first leg in Glasgow when they ran out 3-1 winners, before holding Dukla to a goalless draw in Prague that saw them take their place in Europe's biggest game.

Rarely can public opinion have been so one sided in favour of one team against another in the build up to a European Cup Final. With plucky Celtic, a team comprised of players all born within twenty miles of their home ground, a team committed to exciting and attacking football; up against the expensively assembled Inter machine that had already won two European titles by sucking the life out of their opponents, who had reached the final scoring eleven goals in nine games and had shown how successful negativity and caution could be. Football fans throughout the continent prayed that the first time finalists from Scotland would win out, but few gave them any chance. Their only hope seemed to rest on Celtic getting in front and drawing their opponents out of their shell – if Inter were to score the first goal, they would surely sit back and stifle the Celtic attacks while waiting to hit them on the break.

The final was to be a true clash of styles. Internazionale lined up with their tried and trusted five men at the back, while Celtic played 4-2-4 with two attacking wingers feeding the two forwards in the middle. The Scots relied on their wingers. On one side was Jimmy Johnstone, who would twist and turn past defenders, while on the other wing was the fast and direct Bobby Lennox. These two were at the heart of the Celtic attacks as they fed Chalmers and Wallace in the middle. Jock Stein spoke before the game about how their style of play was almost as important as the result, while for Herrera, winning was everything.

Inter were handicapped by the absence through injury of both Jair and the influential Suarez, but they were still big favourites as they took to Lisbon's Estadio Nacional pitch, despite the 12,000 Scots that had made the long journey to roar their team on. The odds on the cup returning to Milan shortened even further after just seven minutes as the dangerous Cappellini was brought down in the penalty area by Celtic's right-back Craig. Mazzola stepped up to stroke the penalty home and the game seemed to be as good as over even at this early stage of the game. At the time an early goal for Inter seemed to be the worst possible thing that could have happened to Celtic, but in hindsight it may well have made their task easier. Celtic's strength was undoubtedly in attack and now they were forced to throw everything forward. Inter retreated into defence as they had so successfully done so many times before, but they can rarely have come up against a side so committed to attack. Celtic's two attacking wingers ran at the Inter defence, their two forwards caused havoc in the middle, their two central midfielders pressed forward, while Inter's policy of leaving just one man up front left Celtic's full backs free to join in with the attacks.

With no Suarez to set Inter away on their counter attacks, the Italians just fell back into their penalty area as wave upon wave of Celtic attacks rained in on them. Both Auld and Gemmell hit the crossbar, while an inspired Sarti made a number of desperate saves to keep his team ahead. Under the circumstances it was remarkable that Inter held out for as long as they did for there was less than half an hour remaining when Celtic finally broke through, but such was the pressure on the Italians penalty area that a goal was almost inevitable. It came from Craig who had given away the penalty kick. This time he found some space on the right wing where he pulled the ball back to the onrushing Gemmell who took the ball first time and shot home from 25 yards.

Inter now without a lead to hold on to, needed to change their game plan, but it was too late. Celtic had all the momentum and Inter seemed unable to break off their defensive shackles. With just six minutes remaining Gemmell squared the ball from the left to Murdoch whose shot was deflected into the net by Chalmers. Celtic were in the lead and Inter never threatened to come back. The Scottish champions comfortably saw out the final few minutes to become not only the first British side to be crowned European champions, but also the first side to wrest the title away from the Latin countries of Spain, Portugal and Italy. As well as the thousands of Celtic fans who cascaded onto the pitch on the final whistle, Europe celebrated as attacking football had overcome Inter's dreaded negativity. Even Kurt Tschenscher the German referee exclaimed after the game: 'It was a wonderful game and Celtic fully deserved to win.' The Celtic players were so excited that they almost forgot to collect the cup. They were carried shoulder high by their jubilant fans to the dressing rooms, and Portuguese President Americo had to wait for over ten minutes to hand over the trophy. But eventually captain Billy McNeill stepped forward to raise the European Cup high above his head to the delight of the roaring Celtic hordes.

Celtic had made 42 attempts on goal to Inter's five to leave their manager Jock Stein proclaiming that: 'It was a triumph for offensive football and it will start a new trend.' That may have turned out to be an overly optimistic prediction, but for Inter and Herrera the golden days were over. They missed out on the Italian championship and lost in the semi-finals of the Italian Cup to a second division side. It was the beginning of the end for catennacio. The system may never have been loved outside the blue and black half of Milan, but it had been incredibly effective and had brought much glory to Internazionale, but in the end it had been ended by eleven local boys from Glasgow who could only play attacking football and ultimately this had won out over Inter's defensive power. It may not have heralded the new dawn of attacking play that Jock Stein had hoped for, but it had brought Celtic the greatest day in their history, and it began the shift of power in the European Cup as the northern countries finally began to make their mark.